Rev. Bryan Faussett, M.A.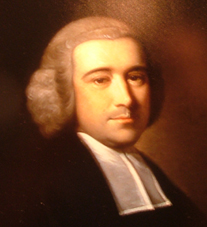 The Reverend Bryan Faussett was born on 30 October 1720 at Heppington, Street End, near Canterbury and was baptised in Nackington Church on 12 November in the same year. He was the first child of Bryan Faussett of Staplehurst in Kent and Mary Godfrey, daughter of Henry Godfrey of Lydd, Kent, and Heppington, who had married in Nackington on 9 October 1719.
His parents had in total fourteen children, all born between 1720 and 1739, three of whom died very young and another, Luke, died at the age of 18. All these children were baptised in Nackington Church and the four who died were also buried there. Both parents died at a relatively young age, his father in 1750 and his mother in 1761, and were buried in the Chancel of the church.
The young Bryan Faussett was educated at a Kent grammar school, matriculating on 8 December 1738, and then at University College, Oxford, where he obtained his Bachelor of Arts in 1742 and his Masters in 1745. He was elected Chichele Fellow of All Souls, Oxford and ordained in 1746. While at Oxford he tried to raise a volunteer corps in support of Prince Charles Edward ("Bonnie Prince Charlie"), whose Scottish army had invaded England got as far south as Derby before retreating to the Highlands and the disastrous defeat at Culloden. His father, a Jacobite, held secret meetings at Heppington.
After leaving Oxford he became vicar of Alberbury in Shropshire for two years, 1748-50 and then returned to Heppington, following the death of his father. He married Elizabeth Curtois, born in 1714, daughter of the Rev. Rowland Curtois of Hainton, Lincolnshire, in the chapel of Magdalen College, Oxford, on 18 November 1748 and a son, Henry Godfrey Faussett, was born on 18 November 1749 and baptised in Alberbury.
Upon his return to Kent he became curate of Kingston until 1756. Another son, also named Bryan, was born on 11 April 1753 and baptised in Kingston church the following day. Two other children were born in Charlton, Bishopsbourne, Charles on 2 March 1754 and Elizabeth on 11 February 1756.
During his youth he developed an interest in antiquities, forming a collection of over 5,000 Roman and English coins, some of which were sold at Sotherby's on 3 December 1753. He had so many duplicates that he was able to have 150 lbs of bronze coins melted down and cast into a bell in 1766. In 1762 he became a fellow of the Society of Antiquaries. From 1757 to 1773 his time was devoted to excavating the many Anglo-Saxon barrows in Kent, commencing with those at Tremworth Down, near Crundale, followed by those at Gilton. Between 1767 and 1773 he opened 308 graves along the old A2 Canterbury-Dover road on the Downs above Kingston and 336 others at the nearby villages of Bishopsbourne, Bekesbourne, Barfreston and Shepherdswell as well as at Chartham. His journal, minutely recording the contents of each grave, formed the basis of Charles Roach Smith's book "Inventorium Sepulchrale" published in 1856.
From the grave goods recovered Bryan Faussett built an unsurpassed private collection which remained in the hands of the family, unknown and unrecognised until 1844 when it was exhibited at the Archaelogical Association's meeting at Canterbury by his grandson, Dr. Godfrey Faussett. In August 1853 it was offered for sale to the British Museum, who declined, stating that they would only take it as a donation. Instead the collection was purchased by a Mr. Joseph Mayer, who passed it to the Liverpool Museum, where it remains to this day.
Late in his life Rev. Bryan Faussett was in 1765 made rector of Monks Horton, near Ashford, Kent and given the perpetual curacy of Nackington in 1767 by Archbishop Secker. He died at Nackington on 10 January 1776 and was buried in the chancel of the church on 17 February, alongside his parents and infant son Charles who had died in 1755. A monument was later erected in the church.
Sources:
Dictionary of National Biography Vol XVIII p.250.
Alumni Oxonienses 1715-1886
Parish registers of Oxford, Hainton (Lincolnshire), Bishopsbourne, Kingston and Nackington (Kent)
"Inventorium Sepuchrale" Charles Roach Smith, 1856
See also Faussett Family Tree