WHITSTABLE
J. W. Court acquired a site for his mineral water factory in Essex Street, Whitstable, from a member of the Neame family in 1878.†† In partnership with his brother-in-law, William Coleman, they traded briefly as J.W.Court & Co. but in February 1879 the partnership was dissolved.† Court moved to Walmer in Kent and set up in business producing mineral waters together with his son (see under Walmer, below), while Coleman, with a new partner, Stephen Saffrey, continued at Essex Street as Coleman & Co. for another four years, until July 1883. The business then passed to Saffrey when Coleman returned to the oyster industry.† In 1898 Saffrey sold out to William Tindle London, who traded as W.T. London & Co until 1902, when he merged with two other local manufacturers of mineral waters, Arrowsmiths and the Whitstable branch of Holdenís of Canterbury (formerly Putwains - note 1), to form the Star Mineral Water Co.† Star remained in business at Essex Street until 1968.
Note 1.† The name possibly derives from the French surname Potdevin, which in Dover morphed into Potwine, and Patwyn
G.W. Arrowsmith & Co., 115 High Street and 32 Harbour Street, Whitstable
<![if !vml]>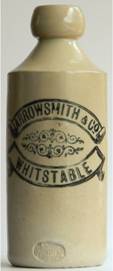 <![endif]>
Label: ARROWSMITH & CO WHITSTABLE
Height: 17.1 cm
Closure: Cork
Colour: Plain; black print
Makerís mark: OLD KENT RD T.SMITH & CO LONDON
William T. London & Co, Essex Street, Whitstable
<![if !vml]>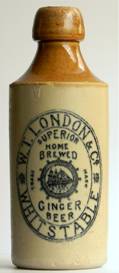 <![endif]>
Label: W.T.LONDON & CO SUPERIOR HOME BREWED GINGER BEER WHITSTABLE TRADE MARK (sailing ship within a shipís wheel)
Height: 17.3 cm
Closure:† Cork
Colour: Top (above shoulder) yellow-brown; bottom (below shoulder) plain; black print
Makerís mark: PORT-DUNDAS GLASGOW POTTERY COY
The above is found on both standard and champagne shaped bottles.
Elizabeth Newton, 2 High Street, Whitstable
<![if !vml]>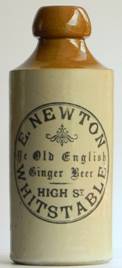 <![endif]>
Label: E.NEWTON Ye Old English Ginger Beer HIGH ST WHITSTABLE
Height:† 16.8 cm
Closure: Cork
Colour: Top (above shoulder) yellow-brown; bottom (below shoulder) plain; black print
Makerís mark: BOURNE DENBY
James H. Newton, 2 High Street, Whitstable
<![if !vml]>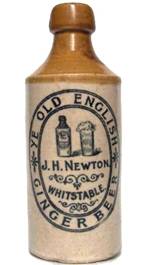 <![endif]><![if !vml]>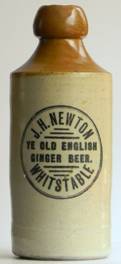 <![endif]>
Label: YE OLD ENGLISH GINGER BEER J. H. NEWTON WHITSTABLE
Height:
Closure:
Colour: Top (above shoulder) yellow-brown; bottom (below shoulder) plain; black print
Makerís mark:
Label: J. H. NEWTON YE OLD ENGLISH GINGER BEER WHITSTABLE
Height: 16.8 cm
Closure: Cork
Colour: Top (above shoulder) yellow-brown; bottom (below shoulder) plain; black print
Makerís mark: BOURNE O DENBY
The Star Mineral Water Co. Ltd., Essex Street, Whitstable
<![if !vml]>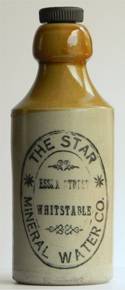 <![endif]><![if !vml]>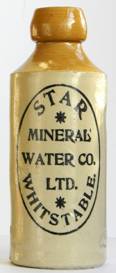 <![endif]>
Label: THE STAR MINERAL WATER CO. ESSEX STREET WHITSTABLE
Height: 17.0 cm
Closure: Screw-top
Colour: Top (above shoulder) yellow-brown; bottom (below shoulder) plain; black print
Makerís mark: None
Label: STAR MINERAL WATER CO. LTD. WHITSTABLE
Height: 17.0 cm
Closure: Screw-top
Colour: Top (above shoulder) yellow-brown; bottom (below shoulder) plain; black print
Makerís mark: BOURNE 6 DENBY (=1906)
Last updated 15 June 2016