FAVERSHAM
W.T. Chittick, 38 St. Johns Road, Faversham
<![if !vml]>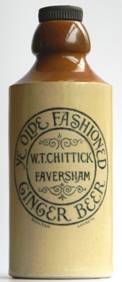 <![endif]>
Label: YE OLDE FASHIONED GINGER BEER W.T.CHITTICK FAVERSHAM
Height: (1) 16.8 cm (2) 16.7 cm
Closure: Screw-top
Colour: Top (above shoulder) yellow-brown; bottom (below shoulder) plain; black print
Makerís mark: (1) DOULTON 40 LAMBETH (2) DOULTON 42 LAMBETH
Arthur DíArcy & Co., Water Lane, Faversham
<![if !vml]>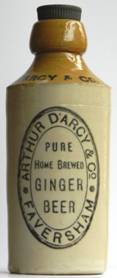 <![endif]>
Label: ARTHUR DíARCY & CO FAVERSHAM PURE HOME BREWED GINGER BEER (DíARCY & CO. on neck)
Height: 16.7 cm
Closure:† Screw-top
Colour: Top (above shoulder) yellow-brown; bottom (below shoulder) plain; black print
Makerís mark: BOURNE 6 DENBY
Charles Holmes & Sons, 1 Court Street, Faversham
<![if !vml]>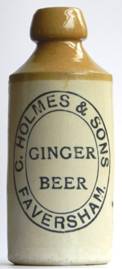 <![endif]>
Label: C. HOLMES & SONS GINGER BEER FAVERSHAM
Height: (1) 17.0 cm (2) 17.4 cm
Closure: Screw-top
Colour: Top (above shoulder) yellow-brown; bottom (below shoulder) plain; black print
Makerís mark: (unclear)
Spendiff Brothers, 88 Whitstable Road, Faversham
The two brothers, George. and F.W. Spendiff, Mineral Water Manufacturers, were in partnership until 3 April 1897.
<![if !vml]>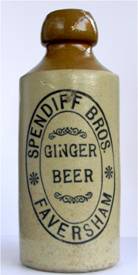 <![endif]><![if !vml]>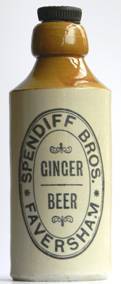 <![endif]>
Label: SPENDIFF BROS. FAVERSHAM GINGER BEER
Height: †17.0 cm
Closure:† Screw-top
Colour: Top (above shoulder) yellow-brown; bottom (below shoulder) plain; black print
Makerís mark:† (1) Stiff, Lambeth(?) (2) BOURNE O DENBY
Note the differences in the motifs above and below GINGER BEER and the eight-pointed stars either side of SPENDIFF BROS.
Label: SPENDIFF BROS. Ginger Beer FAVERSHAM (different print style, in three lines, no oval lines)
Height:
Closure:
Colour: Top (above shoulder) yellow-brown; bottom (below shoulder) plain; black print
Makerís mark:
Taylor Brothers, West Street, Faversham
<![if !vml]>

<![endif]><![if !vml]>
<![endif]>
Label: TAYLOR BROS. WEST STREET FAVERSHAM GINGER BEER
Height: 21.3 cm
Closure: Crown cap
Colour: Top (above shoulder) yellow-brown; bottom (below shoulder) plain; black print
Makerís mark: BOURNE A DENBY
Label: TAYLOR BROS. FAVERSHAM STONE GINGER BEER
Height: 20.8 cm
Closure: Crown cap
Colour: Top (above shoulder) yellow-brown; bottom (below shoulder) plain; black print
Makerís mark: PRICE 21 BRISTOL
Last updated: 12 June 2018