9. PROVINCIAL TOKEN COINS
Provincial token coins were produced in three main waves, during the 17th Century from 1648-1670, the late 18th Century (1787-1797) and early in the 19th Century, circa 1810-1812. In each case the cause was the same - a dearth of officially produced coins.
From Anglo-Saxon times to the reign of Elizabeth I the main coinage was in silver, with gold denominations appearing in the mid-14th Century during the reign of Edward III. Initially the lowest unit was the silver penny, which represented a much larger sum than was convenient for small purchases. This was only possible while transactions at the lower end of the scale were conducted on a barter system. The transition to a money-based economy from the 13th Century onwards, the same movement that had brought about the need for the higher denominations, also required smaller denominations to effect trade at the lower end of the scale. Accordingly silver halfpennies and farthings were introduced as part of the coinage reforms of Edward I. Previously they had been made by cutting pennies into two or four pieces.
By the reign of Edward VI (1547-1553) the size of these two small denominations has shrunk to where it was no longer practical to produce the farthing and it was discontinued. A limited number of halfpennies were produced during the last 20 years of Elizabeth I, but only after an absence of some thirty years. By the beginning of the 17th Century this void was being filled by many privately produced and illegal tokens, mostly of lead.
17th Century Tokens (1648-1670)
James I ordered the production of copper farthings under a licence granted to Lord Harrington, a practice continued by Charles I with first the Duchess of Richmond and then Lord Maltravers. This method was chosen because it was not thought proper for the king to lower himself by issuing copper coins. By the time of the Civil War these licences had expired and the supply ceased. From 1648 to 1670 the need for small change was met by a huge number of copper and brass halfpenny and farthing tokens issued primarily, but not entirely, in the London and the Home Counties in which traders from many towns and villages participated.
These tokens stated the name of the tradesperson who issued the coin, mostly men but some women, and also gave the name of the city, town or village where they resided. In major cities such as London more details of the actual address were given so as to identify the individual. In addition many bear monograms and designs which showed the type of business. These designs might include the names of inns and taverns, coats of arms and other devices such as candles, woolpack etc. In some cases the business is specifically stated. Many of the coins are dated and it is thought that those without dates mostly came from the early period.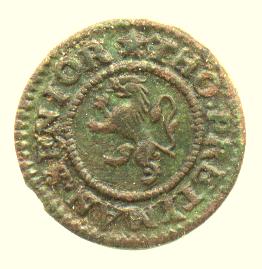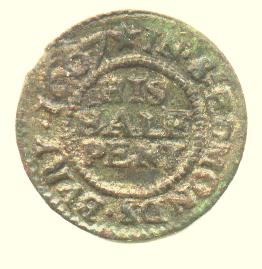 Halfpenny issued by Tho(mas) Prettyman
of Bury St Edmunds, Suffolk, 1667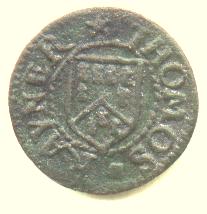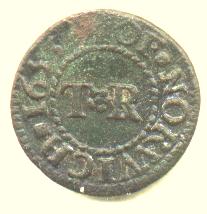 Farthing issued by Thomas Rayner
of Norwich, 1653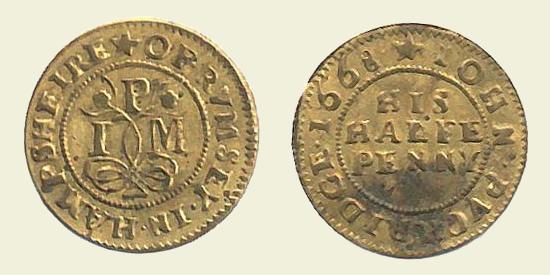 Halfpenny issued by John Pugridge of Romsey, Hants
The weights of these tokens varied. Most were thin and on a small flan, and their intrinsic value was far below the nominal value assigned to them. Consequently the opportunity for fraud and illicit profit was great and many of these tokens were faked. Obviously this situated could not be tolerated for long and in 1672 Charles II began to issue officially minted copper halfpence and farthings and the use of tokens were banned.
Note for collectors: These coins are difficult to obtain in higher grades and the examples illustrated are better quality examples and not indicative of coins normally encountered.
For a full list of this token coinage consult "17th Century Tokens" by Dickenson.
Late 18th Century Tokens (1787- 1797)
The 18th Century began with a glut of copper coins being produced, mostly of a poor quality, and an Act of Parliament in 1698 ordered a temporary halt. During the reign of Queen Anne (1701-1714) no halfpennies and only a few farthings were minted so that by 1717 there were again shortages and production began again for George I. During the reign of George II (1727-1760) large amounts of halfpennies and farthings were produced until 1754 when it was thought that there were sufficient such coins in circulation and they ceased. Despite fairly copious issues, especially of halfpennies, by George III between 1770 and 1775, fresh shortages became apparent due to the circulation of huge numbers of forgeries and the neglect of the government to meet the demand.
This led the Parys Mines Company in 1787 to manufacture penny, halfpenny and farthing tokens, primarily to pay their workers at their copper mines on the Isle of Anglesey. These coins all bore the veiled head of a druid on the obverse and the cypher PMCo on the reverse. Not only were these the first such tokens but also the ones produced in the largest numbers, some 250 tons of pennies and 50 tons of halfpennies. The farthings were only issued in relatively small numbers; some of the later ones with different reverse designs were concoctions made especially for collectors. All the coins were manufactured at a private mint set up in Birmingham, owned by the Parys Mines Company.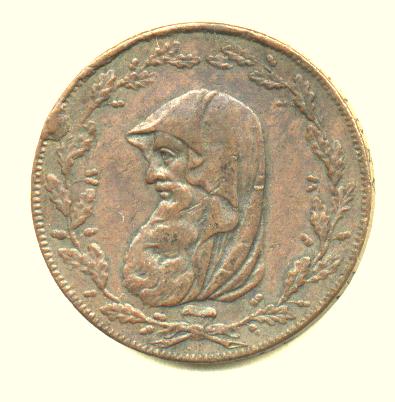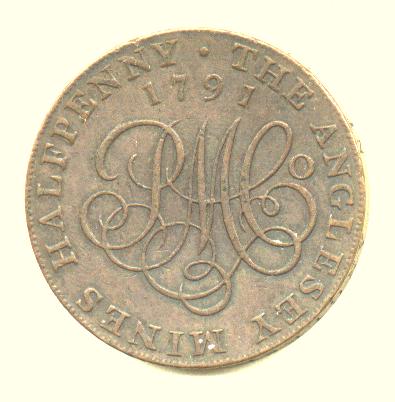 Anglesey halfpenny token issued by the Parys Mines Company
A similar design was used on all their tokens issued between 1787 and 1793
Within a few years other companies and traders throughout the land had begun to issue their own tokens, a practice which quickly spread to Ireland and Scotland. Propagandists sized on the use of tokens to promote various causes. Although these tokens, dubbed the "Political Series", were of a sufficient standard to be used as coins that was not their primary function. Other tokens were plainly intended only as advertising, usually distinguished by the prominence given to the name of the issuer absence of value. Accompanying this was an unprecedented phenomenon in that these token coins attracted the interest of collectors, probably the first instance of popular interest in collecting coins. This accounts for why so many turn up in uncirculated, or near uncirculated condition. In turn this led to the production of tokens, notably by Skidmore, which were intended purely for collectors and the deliberate manufacture of mules (irregular combinations of obverse, reverse and edge marking) for the same purpose. In 1795 came the first publications attempting to catalogue all the known varieties, first by Thomas Spence, followed by several others, notably two collectors Samuel Birchall and Charles Pye. This outpouring culminated in the work of James Conder of Ipswich, an Ipswich draper who also issued his own tokens, "An Arrangement of Provincial Coins, Tokens and Medalets, issued in Great Britain, Ireland and the Colonies within the last 20 years" published in two volumes in 1798. This became the standard reference work for collectors for many years until largely superseded by a further study by James Atkins, entitled "The Tradesmen's Tokens of the Eighteenth Century". In more modern times came the work of Richard Dalton and S. H. Hamer in 1910 "The Provincial Token-Coinage of the 18th Century".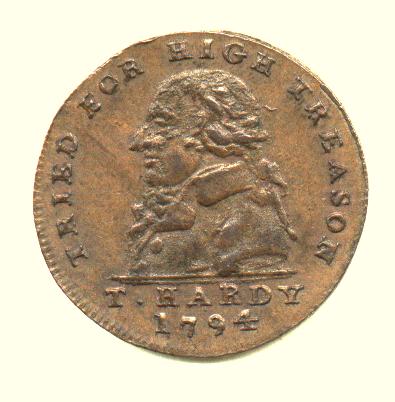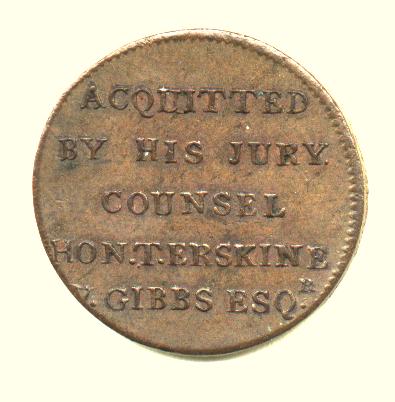 Political Series 1794


Obverse: Thomas Hardy (tried for treason)
Reverse: "Acquitted by his Jury"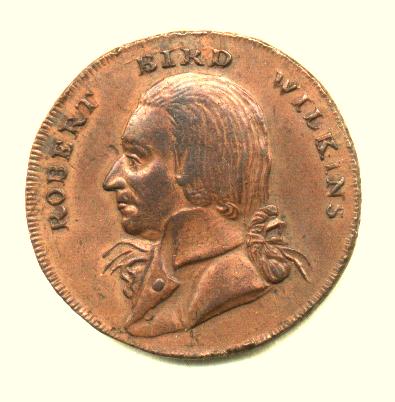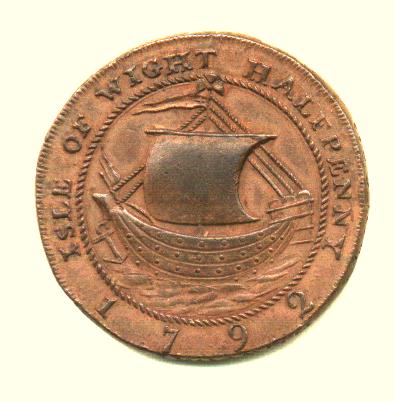 Isle Of Wight
Newport halfpenny token 1792


Obverse: Robert Bird Wilkins
Reverse: Medieval sailing ship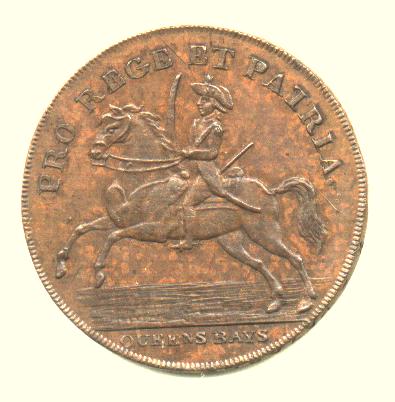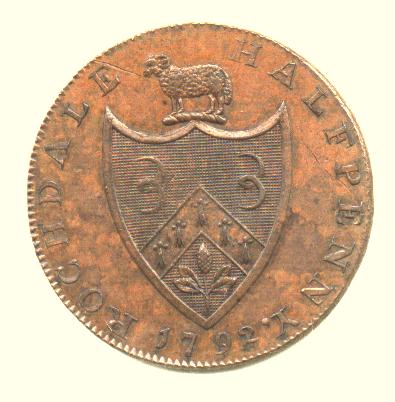 Lancashire
Rochdale halfpenny token 1792


This is a mule, combining an obverse from Norwich and a Rochdale reverse.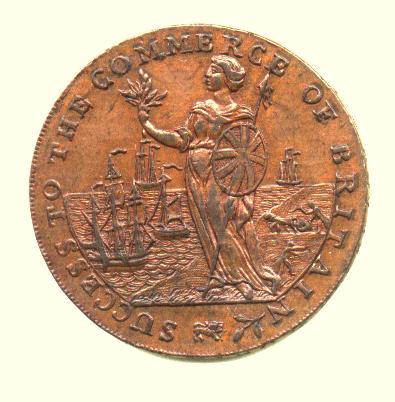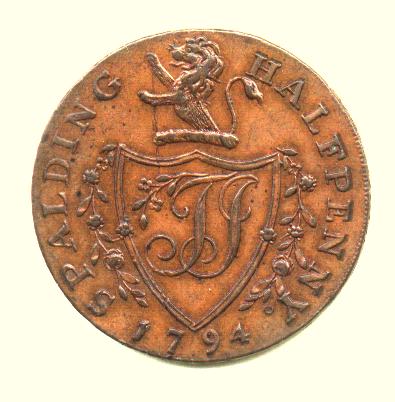 Lincolnshire
Spalding halfpenny token 1794


Obverse: Britannia and ships
Reverse: Cypher TI on a shield
Issued by T. Iennings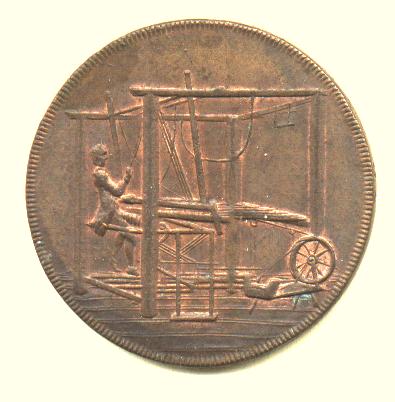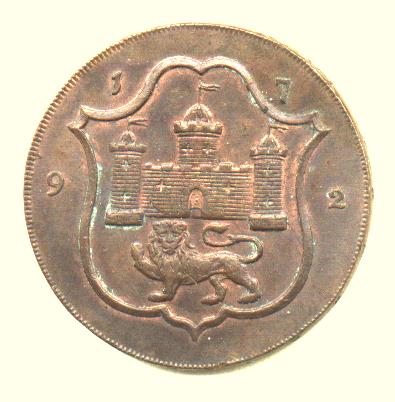 Norfolk
Norwich halfpenny token 1792


Obverse: Weaver working at a loom
Reverse: Norwich shield of arms
Issued by John Harvey of Norwich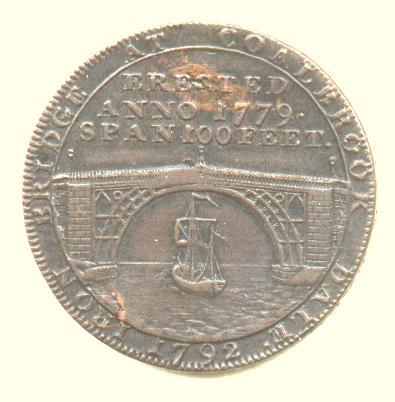 Shropshire
Coalbrookdale halfpenny token 1789


Obverse: Iron bridge at Coalbrookdale
Reverse: The Netley incline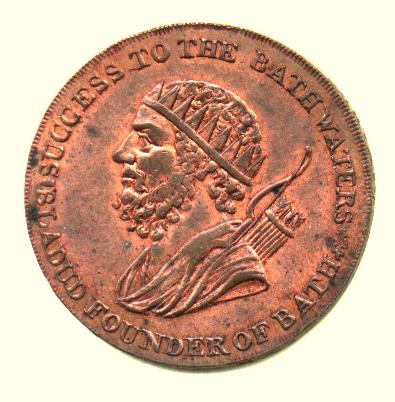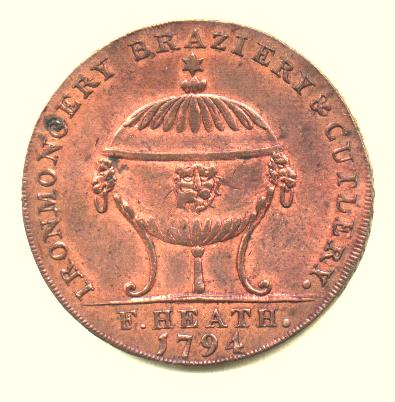 Somerset
Bath halfpenny token 1794


Obverse: Bladud, founder of Bath
Reverse: Tea urn
Issued by F. Heath, Bath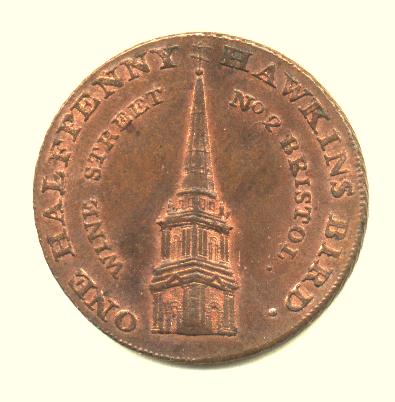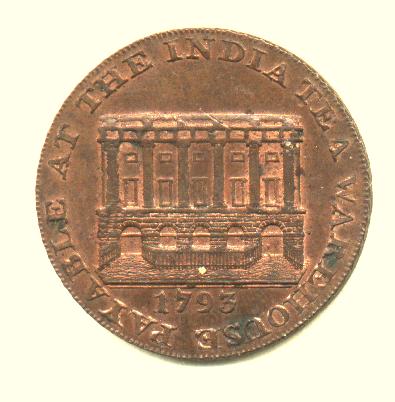 Somerset
Bristol halfpenny token 1793


Obverse: Church spire
Reverse: East India Company warehouse
Issued by Hawkins Bird of Wine Street No.2 Bristol.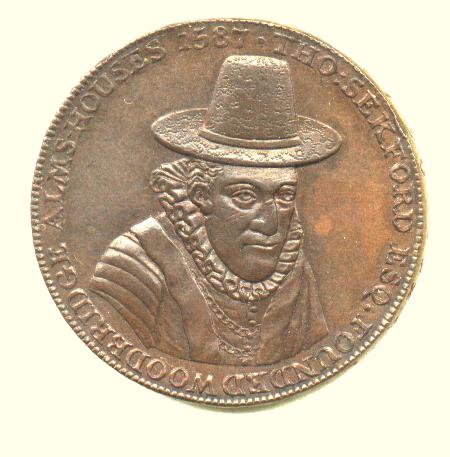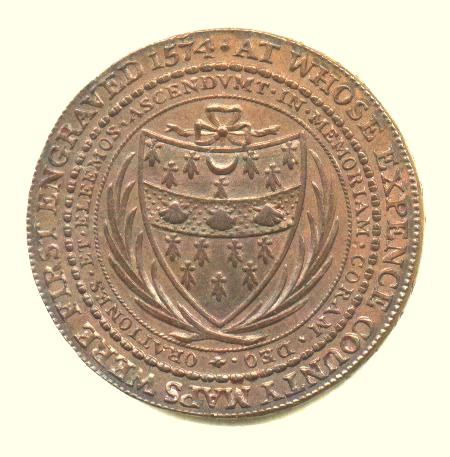 Suffolk
Woodbridge penny token 1796


Obverse: Thomas Sekford, founder of Almshouses in 1587
Reverse: Shield of arms
Issued by R Loder

The token coins were so successful they brought about their own destruction. In 1797 the government minted large quantities of official copper "Cartwheel" twopence and pennies, with halfpennies and farthings following in 1799. The circulation of the tokens was banned.

19th Century Tokens (1810-1815)

The official coins proved short-lived. The cumbersome "Cartwheel" twopence was discarded within a few years and the penny, halfpenny and farthing reduced in size. Even so, the supply of these coins did not keep pace with the demand and by 1811 more penny, halfpenny and farthing tokens were being manufactured. The designs used on these coins lacked the vigour of their 18th Century counterparts and were not as widespread. In addition there was a shortage of silver coins, so shilling and sixpence tokens were also manufactured. Even the Bank of England was forced to issue its own silver tokens, for three shillings and one shilling and sixpence, denominations chosen so as not to conflict with the official halfcrowns and shillings. All these coins were banned following the great recoinage of 1816.

Until fairly recently collectors lacked a satisfactory catalogue of these coins, having to depend on the flawed work of W.J.Davies, "The Nineteenth Century Token Coinage" published in 1904. This has now been remedied by the work of Paul and Bente Withers "British Copper Tokens 1811-1820" published in 1999.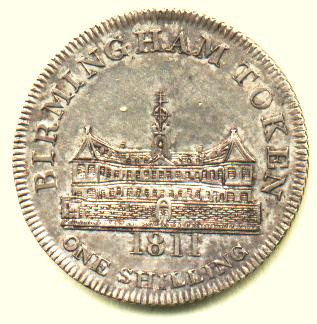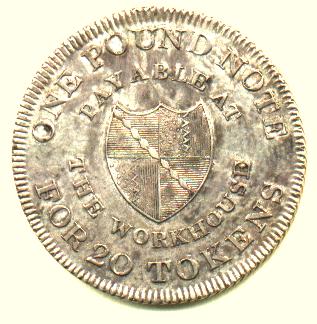 Birmingham Workhouse


Shilling token 1811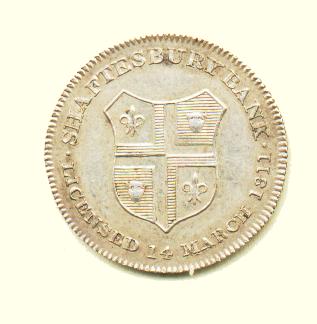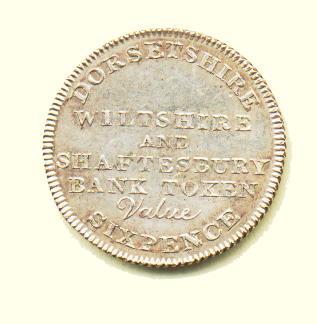 Dorset, Wiltshire & Shaftesbury Bank


Sixpence token 1811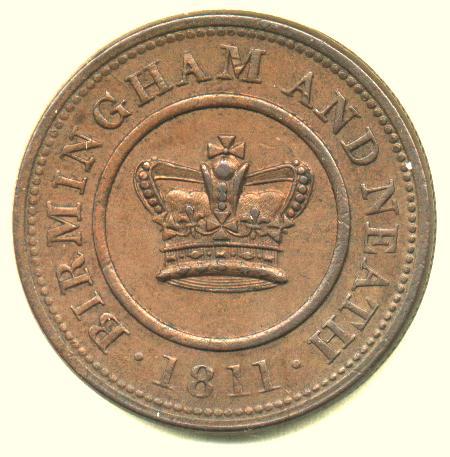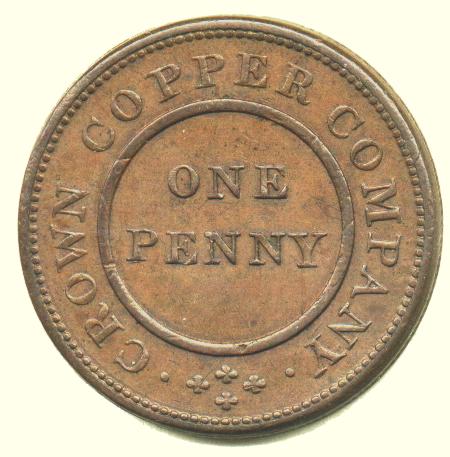 Birmingham penny token 1811


Issued by the Crown Copper Company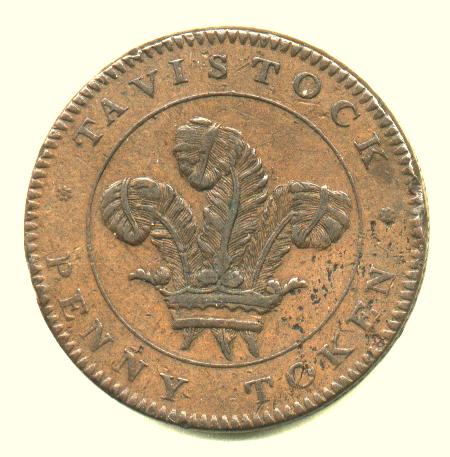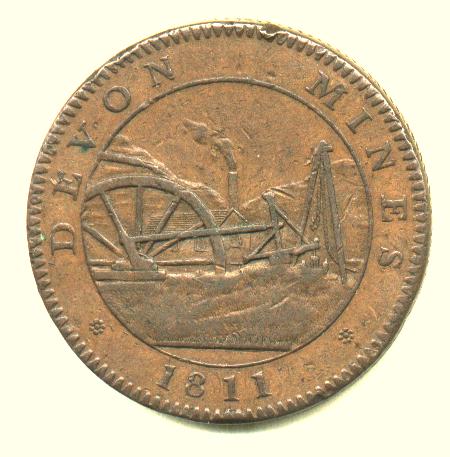 Tavistock penny token 1811


Issued by the Devon Mines Company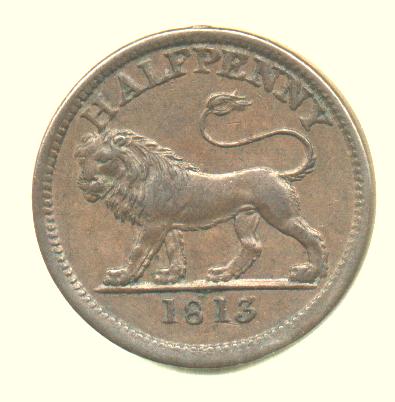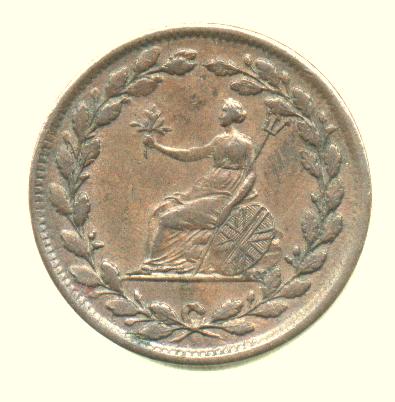 Halfpenny token 1813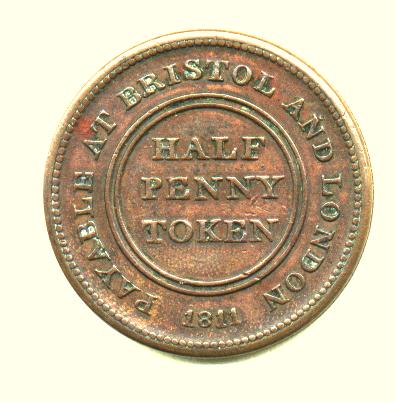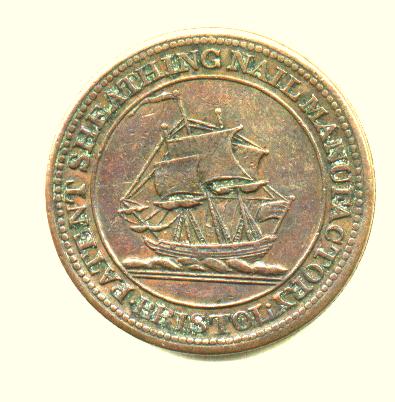 Bristol halfpenny token


Issued by the
Bristol Patent Sheathing Nail Manufactory

See also:

Amendments:

Page introduced 23 January 2002