10. THE GREAT RECOINAGE TO DECIMALIZATION
The so-called "Great Recoinage" that commenced in 1816 was fundamentally concerned with the re-introduction of a silver coinage and a change in the gold coinage from the guinea valued at 21 shillings to the slightly lighter sovereign worth 20 shillings. The value of the shilling remained unchanged at twelve pence.
<![if !vml]>

<![endif]><![if !vml]>

<![endif]>

Gold sovereign of George III 1820
The sovereign, as issued in 1817, made first use of the famous "St. George and dragon" design by Benedetto Pistrucci, still employed today. The introduction of the half sovereign came at the same time. The standard, 8 grammes of 22 carat gold for the sovereign, 4 grammes for the half, has been maintained ever since.
A gold five pounds piece was introduced by George IV in a proof set issued in 1826. Similar coins were also produced as proofs for Queen Victoria in 1839 (the famous Una and lion reverse), 1887 and 1893. Further proofs were issued in sets for Edward VII (1902), George V (1911) and George VI (1937). Five pounds coins of 1887, 1893 and 1902 were also issued for general circulation.
Similarly, two pounds coins in gold were included in proof sets made for George IV in 1823, 1825 and 1826, William IV (1831), Victoria (1887 and 1893), Edward VII (1902), George VI (1911) and George VI (1937).  Those dated 1823, 1887, 1893 and 1902 were also issued for circulation.
<![if !vml]>

<![endif]><![if !vml]>

<![endif]> <![if !vml]>

<![endif]><![if !vml]>

<![endif]>

George IV 1823 and Victoria 1887 two pounds
With the value of the sovereign or gold pound set at 20 shillings this gave a fixed value of 240 copper pennies. Under this system amounts were written out in pounds, shillings and pence e.g. £12. 14s. 6d.
The new silver coinage began with halfcrowns, shillings and sixpences issued in 1816, followed by a crown in 1818. The mintage figures for these were colossal compared with anything from earlier years. By comparison, the total number of silver coins produced in 1787 was about one and a half million. It was to be many decades before these mintage figures were exceeded.
<![if !vml]>

<![endif]><![if !vml]>

<![endif]>
Silver halfcrown of George III with "bull's head" bust 1817
It was almost immediately replaced by a more attractive portrait engraved by Thomas Wyon.
However, a similar bust was retained on the other silver coinage
<![if !vml]>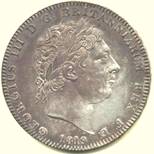 <![endif]><![if !vml]>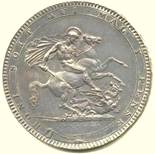 <![endif]>
Silver crown of George III with modified bust 1819
MINTAGE FIGURES

Denomination

1816-1817

1818

1819

1820

Crown

-

155,232

683,496

448,272

Halfcrown

8,092,656

2,905,056

4,790,016

2,396,592

Shilling

23,031,360

1,342,440

7,595,280

7,975,440

Sixpence

10,921,680

4,284,720

4,712,400

1,488,960
The system of coinage begun in 1816 was to endure with only minor changes until decimalization in 1970. The minting of copper coins resumed in 1821 when first farthings were minteded for George IV. These were followed by pennies and halfpence from 1825 onwards. All three were large and quite heavy, the penny weighing 18.8 g, the halfpenny 9.4 g and the farthing 4.7 g and continued to be produced at these standards in most years until 1860.  The reverse consisted of a seated figure of Britannia beside a shield decorated with the Union flag and holding a trident.. The date was carried on the obverse below the portrait bust. Most of the obverses were engraved by William Wyon, whose initials often appear in the design.
<![if !vml]>

<![endif]><![if !vml]>

<![endif]>


Large copper penny of George IV, 1826
Similar pennies were struck until 1860 by William IV and Victoria
<![if !vml]>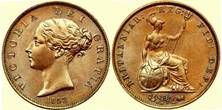 <![endif]><![if !vml]>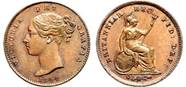 <![endif]>
Victoria copper halfpenny (1853) and farthing (1844)
In 1860 a change to much smaller and lighter pennies, halfpennies and farthings, using bronze instead of copper, was accompanied by the adoption of a new portrait bust of Queen Victoria wearing her hair in a bun, hence the description "bun penny" etc. This was engraved by William Wyon's son, Leonard Charles Wyon. All three bronze coins maintained this standard until the reign of Queen Elizabeth II. Production of the farthing ended in 1956 and it ceased to be legal tender after 1960. The penny and halfpenny were minted until 1967. The penny enjoyed a brief life after the introduction of decimal coins in 1970, remaining in circulation until demonetized on 31 August 1971. The halfpenny ceased to be legal tender in 1969.
<![if !vml]>

<![endif]><![if !vml]>

<![endif]>

Victoria bronze "Bun" halfpenny introduced 1860
together with bronze pennies and farthings
The silver coinage was issued with a silver content of 92.5%, known as sterling silver, until 1920.  One of the outcomes of the enormous damage to the British economy due to World War 1 (1914-1918) was that the silver content had to be reduced to 50% and remained so until 1947, when it changed to no silver at all following World War 2 (1939-1945).  Despite this, coins containing silver continue in circulation until shortly before decimalization, when people became aware that their bullion value was greater than their face value and began to have them melted down..  This contravened regulations, but little or no action was taken to prevent people doing so despite a new law passed in 1971 and all such coins quickly disappeared.
In silver, crowns were minted until 1847, among them the so-called "Gothic Crown" of Queen Victoria, often regarded as the most beautiful coin ever made in Britain.. This was followed by a gap of 40 years until the Jubilee coinage of 1887, when production was resumed. After 1902 production was abandoned, only to be reintroduced in the reign of George V in 1927, after which it became a commemorative issue rather than being intended for circulation.
<![if !vml]>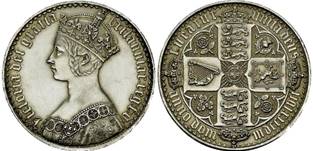 <![endif]>

Victoria, Gothic Crown, 1847
COMMEMORATIVE CROWNS
<![if !vml]>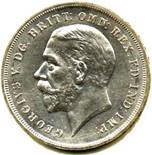 <![endif]><![if !vml]>
<![endif]>
1935 Jubilee of George V (Art Deco St. George and dragon)
<![if !vml]>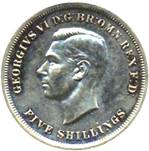 <![endif]><![if !vml]>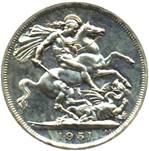 <![endif]>
1951 Festival of Britain in 1951
Other commemorative crowns:
1937 Accession of George VI
1953 Coronation of Elizabeth II in 1953
1960 British Trade Fair in New York
1965 Death of Sir Winston Churchill
This Winston Churchill crown is thought by many to be the most unattractive coin ever produced, an unfitting end to a noble series.
The halfcrown was minted fairly constantly until 1850 but was then supplanted by the florin valued at two shillings, intended as the first step to the introduction of a decimal coinage. In 1874, after the interest in decimalization had waned, the halfcrown was reintroduced, and continued in parallel with the florin until 1967. It was demonetized in December 1969.
The florin itself, when first introduced in 1849, caused something of a furore as it omitted the letters "D.G.", meaning Dea Gratia (By the grace of God) from the obverse legend and consequently dubbed the "Godless florin". The omission was corrected on subsequent issues. Those issued 1851-1887 used a "Gothic" bust and lettering similar to that on the crown. The florin was incorporated seamlessly into the decimal coinage of 1970 as ten new pence, well over a century after the purpose for which it was originally intended. It remained legal tender until 1992, when the 10p coins were replaced by a smaller coin.
<![if !vml]>

<![endif]><![if !vml]>

<![endif]>
Queen Victoria - "Godless" florin 1849
An innovation in 1887 was the double florin or four-shilling piece, forming part of the series of coins struck to mark the Queen's Jubilee. This series used the new "Jubilee head" portrait bust designed by Sir Joseph Edgar Boehm. This double florin was unpopular with the public and only lasted three years before it was discontinued.
<![if !vml]>

<![endif]><![if !vml]>

<![endif]>

Victoria double florin 1887
The shilling was struck in most years until 1966. From 1831 to 1887 it used a reverse incorporating the words "ONE SHILLING" surmounted by a crown and surrounded by oak leaves. Those with the Jubilee bust replaced this with a coat of arms surmounted by a crown within a garter, and those with the veiled older head, 1893 onwards by three shields within the garter.##Shillings of Edward VII used a new reverse consisting of a lion standing on a cow,  This was in use until 1927, when a modified version  was introduced during the reign of George V.
<![if !vml]>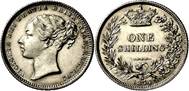 <![endif]><![if !vml]>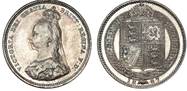 <![endif]><![if !vml]>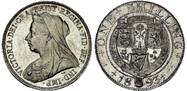 <![endif]>
Victoria silver shillings, showing the three portrait styles used,1871, 1887, 1893
<![if !vml]>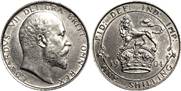 <![endif]>
The shillings of George VI and Elizabeth II had two different reverse types. The one with a lion standing on a crown is known as the English shilling and the other, with a lion seated on a crown with shields bearing the cross of St. Andrew and a thistle on either side, is called the Scottish shilling. This extra design had been intended for shillings of Edward VIII. 
<![if !vml]>
<![endif]> <![if !vml]>

<![endif]>
George VI shillings 1837
with separate English and Scottish motifs
All shillings from 1816 onwards remained legal tender after decimalization in 1970, valued at five new pence, until finally demonetized in 1990 following changes to the 5p coinage
The sixpence was also struck in most years until 1967 and briefly became two and a half new pence after decimalization until demonetized. Silver groats (fourpence) intended for circulation, as distinct from the Maundy fourpence, were only minted in the period 1836 to 1862. The reverse is a seated figure of Britannia (the reverses of Maundy coins used numbers , 1, 2, 3, and 4 to indicate the denomination).
<![if !vml]>

<![endif]>
William VI groat 1836
The silver threepence piece used for currency was exactly the same as the Maundy threepence coin until 1927 when the reverse design was changed to oak leaves and acorns for George V and a Tudor rose for George VI, the latter continuing to be produced until 1945.
<![if !vml]>

<![endif]>
George V silver threepence 1936
In 1937 a new 3d coin was introduced, a brass coin with twelve sides. This was based on a pattern produced for Edward VIII and continued to be minted until 1967, production ceasing following the decision to proceed with a decimal currency.
<![if !vml]>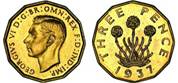 <![endif]>
George VI brass twelve-sided three pence 1937
During the whole of the period following the great recoinage there were only two other significant changes to the currency. The first was the issue of £1 and ten shillings Treasury notes during World War I (1914-18). Although these were discontinued in 1922, from 1928 onwards Bank of England notes became a permanent part of the currency. Higher denomination promissory bank notes had been a feature of the economy since the mid-eighteenth century, with the name of the person to whom it was payable written in by hand. From 1855 these were made payable to bearer and were used for the convenient transfer and payment of large sums rather than as genuine currency, though this role gradually changed in time and their use became more accepted, especially after 1930. These were in denominations of five (the famous "white fiver"), ten, twenty, fifty, one hundred, two hundred, five hundred and one thousand pounds. These continued to be issued until 1944, after which only the £5 note was produced. It was not until 1957 that £5 notes truly became part of the money in general circulation, with £10 and £20 notes added in the 1960's.
<![if !vml]>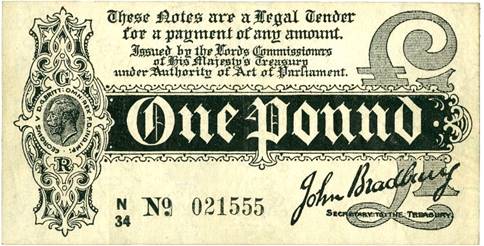 <![endif]>
Treasury £1 note introduced 1914, during World War I
Although sovereigns continued to be produced, they were treated solely as bullion once Britain had abandoned the gold standard in the early 1930's, trading above their nominal value of 20 shillings. The other major change, as already noted above, was the debasement of the silver coinage from 92.5% silver to only 50%. and finally to zero.
It should be noted that although 1967 was the last year of minting the old coinage for currency, commemorative proof sets including all current denominations were made in 1970 to signal their passing. Pre-decimal 10 new pence and 5 new pence coins replaced the florin and shilling in production from 1968 to 1970.
Kings and Queens of Britain from the Great Recoinage to the present day.
George III 1760-1820
George VI 1820 - 1830
William VI 1830 - 1837
Victoria 1837 - 1901
Edward VII 1901 - 1910
George V 1910 - 1936
Edward VIII 1936 (abdicated)
George VI 1936 - 1952
Elizabeth II 1952 onwards
Note: Only pattern coins were produced for Edward VIII, however, some of these, particularly the brass threepence, did escape into circulation.
Mintmarks
GOLD COINS:
In 1871, during the reign of Queen Victoria, gold sovereigns and half-sovereigns began to be minted in Sydney, Australia. To differentiate these coins the letter S was added below the shield on the reverse of the coin. Another mint was opened in Melbourne in 1872 and, towards the end of the reign a further mint was opened in Perth. On some reverses the mintmarks for these series were also placed below the head on the obverse.
During the reign of Edward VII a mint in Ottawa, Canada, produced sovereigns, but no half-sovereigns, from 1908 to 1910, mintmarked C (to denote Canada). These coins are comparatively scarce and consequently command a premium. The mint continued to produce sovereigns for George V, most of which are reasonably common. Sovereigns were also minted in Bombay, India, for George V, during 1918 and marked I. From 1923 to 1932 sovereigns were minted in Pretoria, South Africa, with some half-sovereigns during 1925-26, mintmark SA.
Proofs of the gold £5 and £2 pieces were struck in Sydney in 1887 and 1902.
BRONZE COINS:
From 1874 to 1882 the bronze penny, halfpenny and farthing were minted by Messrs Ralph Heaton of Birmingham and bear a small letter H below the date on the reverse. The Heaton mint again produced pennies in 1912 and 1918-19 denoted by the letter H to the left of the date. Also in 1918-19 the Kings Norton Metal Co, Birmingham, produced pennies marked KN.
MINT MARKS ON COINS 1872-1932

Gold

Five pounds proof 1887
Two pounds proof 1902

S
S

Sydney, Australia
Sydney Australia

Gold

Sovereign 1871-1926
Sovereign 1872-1931
Sovereign 1899-1931
Sovereign 1908-1919
Sovereign 1918
Sovereign 1923-1932

S
M
P
C
I
SA

Sydney, Australia
Melbourne, Australia
Perth, Australia
Ottawa, Canada
Bombay, India
Pretoria, South Africa

Gold

Half-sovereign 1871-1916
Half-sovereign 1873-1915
Half-sovereign 1899-1920
Half-sovereign 1925-1926

S
M
P
SA

Sydney, Australia
Melbourne, Australia
Perth, Australia
Pretoria, South Africa

Bronze

Penny 1874-1882
Halfpenny 1874-1882
Farthing 1874-1882

Penny 1912

Penny 1918-1919
Penny 1918-1919

H
H
H

H

H
KN

Messrs Heaton, Birmingham
Messrs Heaton, Birmingham
Messrs Heaton, Birmingham

Messrs Heaton, Birmingham

Messrs Heaton, Birmingham
Kings Norton Metal Co, Birmingham
Designer's and initials 1816-1970
Following a precedent set by Benedetto Pistrucci on his 1818 crown for George III, where his name was added beneath the obverse bust and the exergual line on the reverse (in letters so small they resemble a line of dots), designers placed their initials on the coins, usually under the obverse bust. Among these were Pistrucci himself (BP) (which continued to be incorporated in his famous St George & dragon reverse design) and William Wyon (WW and W.WYON).
BM
B.P
DeS
E.F C.T
GL
HP
J.E.P.
K G
PISTRUCCI
P.M
T.B.
W G
W.W.
W. WYON

Sir Bertram MacKennal
Benedetto Pistrucci (St George & Dragon reverse)
George William de Saulles
E. Fuller & C. Thomas (reverse only)
G. Ledward
Thomas Humphrey Paget
Sir Joseph Edward Boehm
George Kruger Gray
Benedetto Pistrucci
Percy Metcalfe (reverse only)
Sir Thomas Brock
William Gardener (reverse only)
William Wyon
William Wyon
Die Numbers
Gold and silver coins of Victoria minted between 1863 and 1880 have a die number incorporated into the reverse design. Although dies are known with quite high numbers, modern studies have not yet found examples of all the possible numbers used.
Artificial Darkening of farthings
From 1897 to 1917 farthings were artificially darkened by the mint. Allegedly this was done to prevent confusion with the gold half-sovereign. Farthings from this period which are not darkened have been cleaned.