Author's Note: Because I am not a collector of Channel Islands coins I have leaned very heavily on Coincraft's "Standard Catalogue of the coins of Scotland, Ireland, Channel Islands and Isle of Man", published 1999, in compiling this section.
HISTORY
The Channel Islands of Jersey, Guernsey, Alderney and Sark, were originally part of the Duchy of Normandy and came to be British because of the Norman Conquest. They remained so even after all other English possessions in France were lost. Technically they are British Dependencies and do not form part of the United Kingdom, nor are they part of the European Community, with their own laws, taxation, postal stamps and currency.
During World War II the Channel Islands were under German Occupation, but otherwise throughout their history the main influence has been French. In ancient times Amorican billon staters from Northwest France (billon is a mixture of copper and silver) circulated in the Channel Islands and may even have been minted there as they have been found in large quantities.
THE COINS
Bailiwick of Jersey
Until the 19th Century a mixture of English and French coins were used. The first Jersey coins were two silver tokens issued in 1813 following authorisation by the Council of the States of Jersey, with values of three shillings and one shilling and sixpence (eighteen pence). These paralleled similar issues by the Bank of England in Britain between 1811 and 1816. It seems that their circulation life was short-lived, though they remained legal tender until 1834.
In 1834 a decision was made to change to the use of British coins. In 1841 new copper coins were introduced with the somewhat bizarre value of one thirteenth of a shilling (arrived at by trying to accommodate current values of French coins). Two smaller coins had values of 1/26th shilling and 1/52nd of a shilling. In 1877 new smaller coins of bronze were introduced, based on the standards used in Britain since 1860 and the values changed to a twelfth, 1/24th and 1/48th of a shilling, making them compatible with coins from the mainland. The smallest coin, equivalent to a farthing was only issued in 1877 but the other two were produced intermittently throughout the reigns of Victoria, Edward VII, George V and George VI. The twelfth of a shilling "penny" was also produced for Elizabeth II, the last being issued in 1966. Special undated twelfth of a shilling coins of George VI struck from 1949 to 1952 and for Elizabeth II in 1954 commemorate the Liberation of Jersey from German occupation in 1945. The last issue for Elizabeth II commemorates the 900th Anniversary of the Battle of Hastings and the Norman Conquest of England.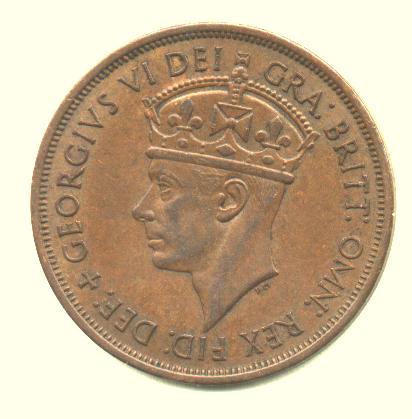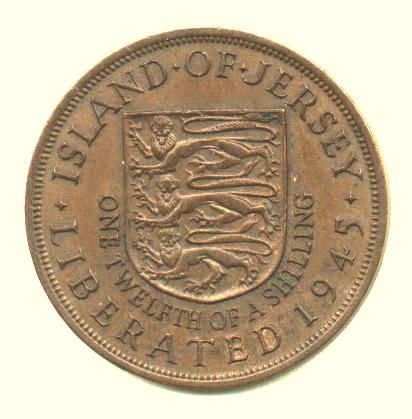 George VI - Jersey one twelfth of a shilling
commemorating the Liberation in 1945
Copper Coinage

Year

1/13th shilling

1/26th shilling

1/52nd shilling

1841
1844
1851
1858
1861
1866
1870
1871

x
x
x
x
x
x
x
x

x
x
x
x
x

x



x

Bronze coinage

Year

1/12th shilling

1/24th shilling

1/48th shilling

Victoria
1877
1881
1888
1894

Edward VII
1909

George V
1911
1913
1923
1926
1931
1933
1935

George VI
1937
1946
1947
(1945)

(note 1)

Elizabeth II
(1945)

(note 1)
1957
1960
1965
1966 (note 2)


x
x
x
x


x


x
x
x
x
x
x
x


x
x
x
x


x
x
x
x
x


x

x
x


x


x
x
x
x
x
x
x


x
x
x





x

Notes:
1. Liberation of Jersey from German Occupation 1945
2. 900th Anniversary of the Battle of Hastings 1066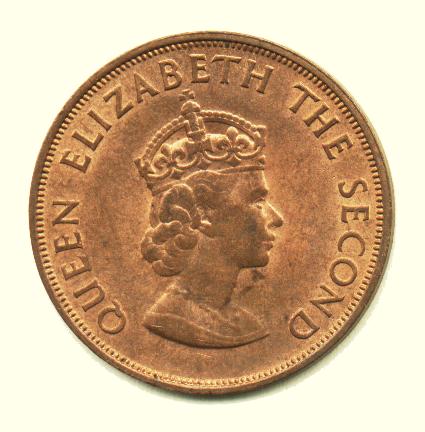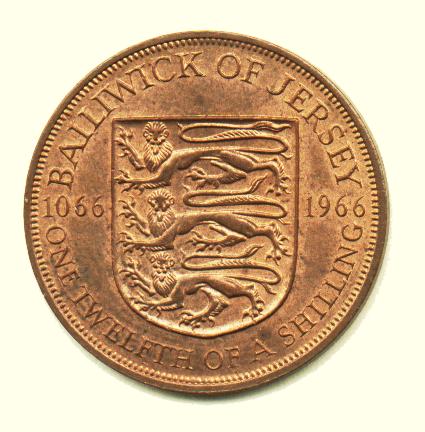 Elizabeth II - Jersey one twelfth of a shilling
commemorating the Norman Conquest of England in 1066
Two other coins made their appearance, a commemorative crown to celebrate the 900th Anniversary of the Norman Conquest of England in 1966 and a fourth of a shilling "threepence" which was first minted in 1957 and was round. In 1964 this was changed to a twelve-sided coin similar to the British threepence. The final issue had the dates 1066 and 1966 either side of the shield and also commemorated the Norman Conquest.
In 1969 the island changed to a decimal currency that was based on the standards of decimal coins introduced in Britain at the same time. The first coins were ten and five new pence denominations produced in 1968. Bronze two new pence, one new pence and half new pence coins were issued in 1971 and a cupro-nickel seven-sided fifty pence piece in 1972. To these were added a seven-sided 20 pence coin in 1982, a £1 brass coin from 1893 and a brass £2 coin in 1997. All the coins dropped the word "New" from the denomination in 1981, slightly earlier than on the mainland. The five pence coin was reduced in size in 1990, the larger coins ceasing to be legal tender after 31 December, and the ten pence similarly reduced in size in 1997, at the same time as the 50 pence coin. The halfpenny was last minted in 1981 and demonetised in 1984. The bronze one pence was replaced with a copper plated steel version in 1994, though the two pence had to wait until more coins were required in 1997 for this change to take effect.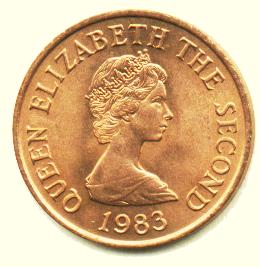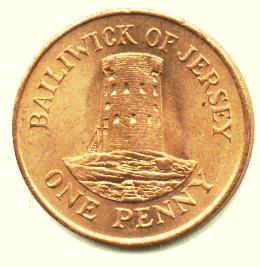 Jersey decimal penny 1983
Jersey also produces gold coins, mostly aimed at collectors, with face values of £100, £50, £20, £10 and £5 as well as several silver coins, the most spectacular probably being the £5 Battle of Britain Commemorative in 1990 which had a diameter of 65mm. There were also several crown size cupro-nickel commemoratives with a face vale of two pounds.
GUERNSEY
As with Jersey, for centuries Guernsey mainly used French coins, though English coins also circulated. In 1809 a private bank, Bishop, de Jersey & Co. issued five shillings silver tokens under the name of Bank of Jersey. These were outlawed and melted down so that nowadays they are quite rarely found.
In 1830 two copper coins were issued, one of four doubles and the other of one double. These approximated to the British halfpenny and half farthing but were somewhat heavier. An eight doubles, equivalent to a British penny, followed in 1834. The name derived from the French coin the "double tournois". Another 24 years were to pass before any more coins were produced. These were in 1858, with denominations of two, four and eight doubles, the smallest being the same as the British farthing.
Britain changed to using smaller bronze coins in 1860 and it was not long before the coinage of Guernsey followed suit. Intermittently from 1864 until 1959, as the need arose for fresh coinage, one, two, four and eight doubles coins were produced, the last of the two doubles in 1929 and the one double in 1938. The original copper coinage was demonetised in 1868.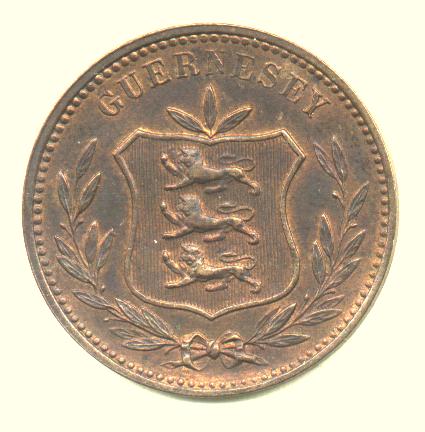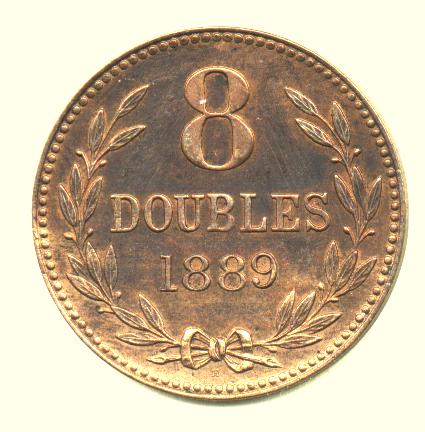 Guernsey eight doubles 1889
Copper Coins

Year

1 double

2 doubles

4 doubles

8 doubles

1830
1834
1858

x



x

x

x


x
x

Bronze coins

1864
1868
1874
1885
1889
1893
1902
1903
1906
1908
1910
1911
1914
1918
1920
1929
1933
1934
1938
1945
1947
1949
1956
1959

x
x
x
x
x
x
x
x


x
x
x
x
x


x
x
x
x
x
x
x

x
x
x
x
x
x
x
x
x
x
x
x
x
x
x




x

x
x


x
x
x
x

x
x
x
x

x
x
x
x
x


x

x
x
x
x
x



x
x


x
x

x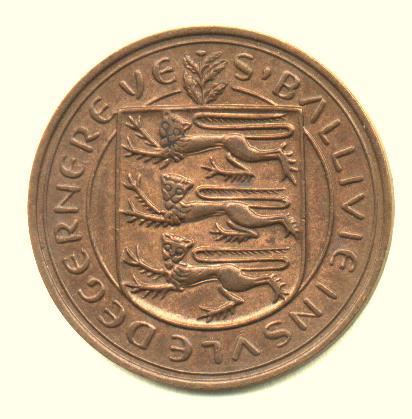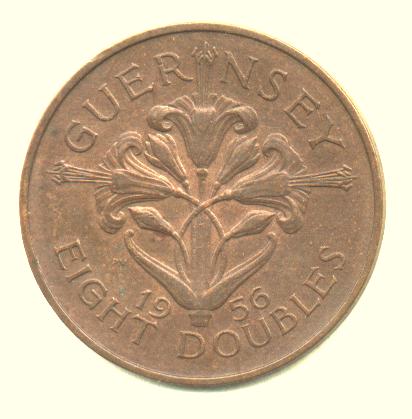 Guernsey eight doubles 1956
The only other two coins in all that time were the three pence with a twelve-sided scalloped edge, produced in 1956 and 1959, and the diamond-shaped with rounded corners ten shillings coin of 1966. This commemorated the 900th Anniversary of the Battle of Hastings in 1066 and shows a portrait of William the Conqueror on the reverse.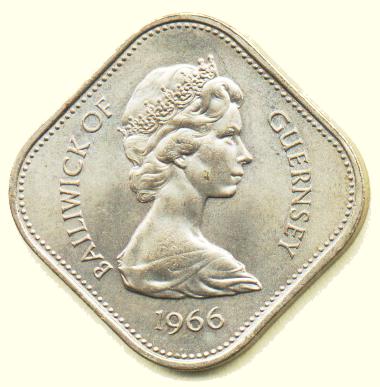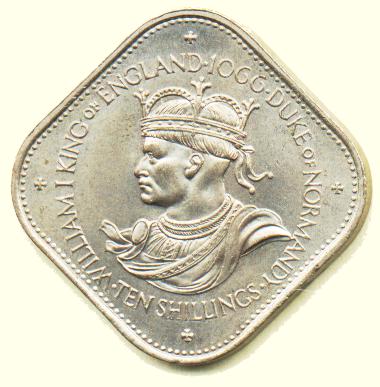 Elizabeth II - Guernsey ten shillings 1966
commemorating the Norman Conquest
As with Jersey and the mainland of Britain, Guernsey adopted a decimal coinage in 1971. The ten new pence and five new pence in cupro-nickel were the usual precursors, introduced in 1968. The five pence coin was reduced in size and weight in 1990 and the ten pence followed in 1992. A seven-sided fifty new pence was introduced in 1969 and was reduced in size in 1997. In bronze there were three denominations, two new pence, one new pence and one new halfpenny, the half new pence only being minted in 1971. The word "New" was dropped from the wording on the coins in 1977, much earlier than Jersey and the mainland. From 1992 onwards the one pence and two pence were made from copper plated steel. A seven-sided twenty pence coin was introduced in 1982. The one pound note was phased out from 1981 onwards and replaced by a brass coin.
None of the original coins carried the Queen's portrait, using instead the arms of the Bailiwick of Jersey. The first use of the Queen's portrait on coins intended for circulation was not until 1985, though the 25 pence crown sized coins from 1977 onwards anticipated this innovation. These 25 pence coins, although legal tender, were used as commemoratives mostly aimed at collectors. Like Jersey there was a considerable gold coinage with a similar purpose, with denominations of £100, £50, £25 and £10, and £5 and £2 cupro-nickel commemorative coinage which was not intended for normal circulation.
The latest new circulation denomination from Guernsey is the bi-metallic brass and cupro-nickel £2 coin introduced in 1997.
ALDERNEY
The island of Alderney has minted coins since 1989, originally £5 and £2 coins in cupro-nickel and.more recently, in gold and silver. None of these coins are intended for circulation.
Amendments:
Page introduced 2 February 2002