In AD 286, Maximian, newly appointed as co-emperor by Diocletian, was in Gaul (modern day France) suppressing a revolt by runaway slaves and peasants known as the Bacaudae. At this time the south-eastern coast of Britain and northern Gaul were being subjected to raids by Saxon pirates and it was thought necessary to create a naval force to deal with them.
Command of this fleet was given to one of Maximian's lieutenants called Carausius, who had already demonstrated his skill and valour. Soon after his appointment, however, complaints were made that instead of returning any recaptured booty, Carausius was expropriating it for his own use. Maximian ordered his arrest and execution but Carausius forestalled this by sailing off to Britain and declaring himself emperor. How this was accomplished is unknown and the literary evidence for the chronology and events of this rebellion are extremely scanty. The main sources are two panegyrics, one in honour of Maximian, delivered by Claudius Mamertinus in AD 289, and the other by Eumenius in AD 297 for Constantius I. There are also sketchy accounts by Aurelius Victor and Eutropius over half a century later, the ramblings of Geoffrey of Monmouth written circa AD 1136, reputedly based on Welsh folklore, and the medieval Scottish Chronicles of John of Fordun and Hector Boethius. Although writing a thousand years after the event, the Chroniclers add many details not found elsewhere, such as a supposed alliance with the Picts and Scots that enabled Carausius to defeat the Roman garrison and take control of the island.  In general these Chroniclers are in agreement, that Carausius first sailed round Britain and then, after landing in the north, defeated the Roman governor, Quintus Bassianus, in a battle fought near York, though we cannot be sure of the truth of what may be total fabrications.
So little is known about Carausius that were it not for the famous Carlisle milestone we would not even be aware of his full name. This stone, discovered in 1875, bears the legend IMP C M AVR MAVS CARAVSIO INVICTO AVG. It had been reversed in the ground and re-used in the time of Constantius I. His name and titles were therefore Imperator Caesar Marcus Aurelius Mausaeus Carausius the Invincible (unconquered) Augustus (emperor). According to the historians he was a citizen of Menapia, part of modern Belgium, and stress that he was "vilissime natus" - of the most humble birth.
In addition to Britain, Carausius must have controlled part of northern France, because it was necessary for Constantius I, who was made Caesar of the Western provinces on 1 March AD 293 and given the immediate task of recovering Britain, first to capture the port of Gesoriacum (Boulogne). This he accomplished by building a mole across the entrance to the harbour and preventing supplies and reinforcements from being sent by Carausius. It may have been in a wave of panic that followed the loss of Gesoriacum that the enemies of Carausius assassinated him and made his chief minister, Allectus, emperor in his place (Aurelius Victor says that Carausius was killed through the treachery of Allectus).
Meanwhile Constantius secured the rest of Gaul and made his preparations for an invasion.  The prime obstacle facing him was the "Classis Britannia", the British Fleet, already, it seems, enjoying a fearsome reputation for its defeat of a previous invasion attempt by Maximian in AD 289 (explained away by Roman historians as the result of an "inclementia maris" - an inclement sea). Robbed of its main base at Gesoriacum it now fell back on Clausentum (Bitterne in Southampton Water). In addition to the fleet there was a series of forts guarding all the navigable estuaries around the coast from Portchester, near Portsmouth in Hampshire, to the Wash, known in later documents as the "Litus Saxonicum", the Saxon Shore. Some of these forts were built in places with a long history, for example Richborough in Kent, while others were completely new sites, such as Pevensey in Sussex. All date from the latter part of the 3rd century and may either have been built by Carausius himself or were part of the general defensive trend inaugurated in the time of Aurelian (AD 270-275), who had ordered walls to be built around Rome.
<![if !vml]>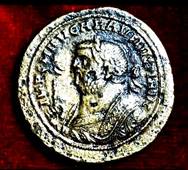 <![endif]><![if !vml]>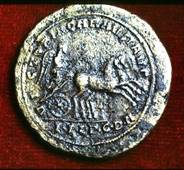 <![endif]>
Unique bronze medallion of Carausius, datable to circa AD 289
commemorating a victory, presumably the one over Maximian's fleet
Reverse: VICTORIA CARAVSI AVG with I.N.P.C.D.A in exergue
Sold in a London auction in the 1970s, this medallion is now in the British Museum
By AD 296 Constantius assembled two large fleets, one under his own command at Gesoriacum, the other under his Praetorian Prefect, Asclepiodotus, at Rouen. This latter force set sail first and on hearing this, Constantius hurried after it. Thanks to a thick fog Aslcepiodotus managed to avoid the British Fleet and landed near Southampton, burned his boats and marched for London. Allectus gathered his army and advanced to meet them, but was defeated and killed. The scattered remnant of his army fled back to London but were prevented from sacking it by the belated but timely arrival of Constantius.
This event was celebrated by a large gold medallion showing Constantius entering the gates of London and the legend REDDITOR LVCIS AETERNAE (Restoration of Eternal Light).
<![if !vml]>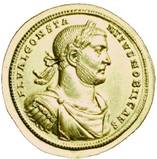 <![endif]><![if !vml]>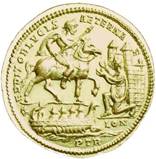 <![endif]>
Constantius I gold medallion showing him entering London
From the Arras hoard, its weight is equivalent to 10 gold coins
Study of the coinage of Carausius and Allectus has always been hampered by the uncritical amassing of many coins which are contemporary forgeries (barbarous) and the inclusion of misreadings, together with hybrids or inadequately reported pieces. The extent of the barbarous copies should not be underestimated; experience shows that a large proportion of the so-called coins of Carausius fall into this category. As an example, of the 81 coins of Carausius in the Penard Hoard, 58 were barbarous and some of the remainder suspected of being so. When these are removed from consideration a much clearer pattern emerges.
In an article for the Journal of the British Archaeological Association 1959, "The Mints and Coinage of Carausius and Allectus", and another that was part of "Mints, Dies and Currency" published in 1971, R.A.G. Carson, proposed that these coins, both the RSR series and others without mintmark, were minted at Gesoriacum, pointing to the fact that their distribution in British finds is almost entirely confined to the south-east of the country and formed a higher proportion of the coins discovered in finds nearer the coast. In his view, support for this theory came from the fact that this coinage ceases by AD 293, around the time that Gesoriacum was lost to Constantius. This view has since been challenged, not the least because the RSR coins have now been found die-linked with coins from a mint in London. Explanation of the RSR mark is not obvious and various suggestions have been made in the past which gained some currency, including Rationalis Summae Rei (Aurelius Victor refers to Allectus as "cum eius permissu summi rei" ) or Rationalis Summarum Rationum (the title of an officer in charge of the mint). However, by far the most plausible and now widely accepted explanation, is the one advanced by Guy de la Bedoyere,  that it  actually derives from a quote in Virgil's Fourth Eclogue, "Redeunt Saturna Regna" (The Saturnian Age returns - in other words a new Golden Age). If this seems far-fetched, he also points out that the letters in the exergue of the medal of Carausius shown above, I.N.P.C.D.A. are the initial letters of the very next line, "Iam Nova Progenies Caelo Demittitur Alto" (Now a new generation is let down from heaven above). Such sentiments would be totally in keeping with the aims of Carausius expressed elsewhere on the coins, for example ROMANO RENOV(at) ("Rome Renewed").
Another mint, almost certainly located in Gaul, issued aureliani of a distinctively crude style, some of which are marked with the letter R (occasionally OPR) or unmarked. These are assigned to Rotomagus, modern Rouen, on the basis of a large hoard found there which consisted solely of these coins. Most of the other coins of this mint have been found in northern France, though some made their way to Britain. Gold aurei were also struck at this mint so it definitely had official status. Furthermore, although Carson dated these coins to circa AD 291, hoard evidence has since shown that they are among the earliest issues of the reign. A common reverse on the aureliani is TVTELA (Protection), particularly apt under the circumstances. Although the workmanship on these coins improves it never reaches the standards of the coins minted in Britain, possibly because it did not remain in production for long.
<![if !vml]>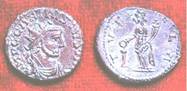 <![endif]>
Carausius aurelianus - Rouen mint
Reverse: TVTELA
This still leaves open the attribution of the bulk of the unmarked aureliani, which form some 35% of the coinage. That they are early in the reign is shown by hoards terminating circa AD 289 in which they form a high proportion, swelled, unfortunately, by the inclusion of many coins that were barbarous forgeries. If this mint is not to be located in France then it must have been located somewhere in Britain, produced prior to the signed coinage. The distribution pattern in hoards offers no guidance to its location and Carson's evidence that it was in the south-east does not stand up to close examination. There is a suggestion that some of these coins have been die-linked to marked London issues, but the context leaves the doubt that they may have been found among barbarous coins (I have not found such links myself). If they were all minted in Britain, a problem of attribution arises, dividing them between the two known mints.
The two main mints of Carausius and Allectus were undoubtedly situated in Britain. The main one, responsible for about two-thirds of the marked coinage minted, used the letter L in the mintmark and must surely be London. The other used the letter C and was originally thought to be Camulodunum (modern Colchester) and usually referred to as such. This attribution was challenged by Carson, who thought that a better case could be made for Clausentum. His reason for this is that among coins found in Colchester the proportion of London mint coins is even higher than normal whereas something like parity would be expected. It is also important to note that on some coins the mintmark is CL, which is not a normal mint contraction of Camulodunum - we would expect to find CM or CAM. On this basis, Clausentum does appear to have a better claim, but the case for Colchester is not totally lost because a 2nd Century inscription shows that it was called Colonia Victricensis and the Antonine Itinerary V lists it as Colonia (as well as Camulodunum in Iter IX). These earlier names may still apply in the later 3rd Century.  If so, this might well be contracted to CL.
Claims have also been advanced in favour of Calleva (Silchester), one of the tribal capitals.  North of Southampton Water, a distribution pattern for Calleva would be virtually the same as one based on Clausentum, though it should be stressed that no such pattern has been observed. Another suggestion worthy of consideration is that it was Glevum (Gloucester) as in that period G and C were interchangeable. Unfortunately, as shown above, the distribution pattern of C mint coins in hoards tends to be ambivalent and supports no conclusion in particular.
<![if !vml]>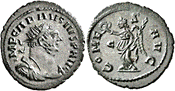 <![endif]>
Early Carausius aurelianus - C mint
Reverse: COMES AVG
After eliminating most of the extraneous material, it can be seen that the London mint used seven different marks for Carausius, one shared with Allectus, who added another three marks. At the "C" mint, there is a similar picture, eight for Carausius, two for Allectus plus the one shared. The key to dating the Carausian issues is the change from the early obverse legend IMP CARAVSIVS P F AVG to IMP C CARAVSIVS P F AVG, which, from two unmarked aurei commemorating Carausius' quinquennalia, can be dated to AD 290-291. The first of these (RIC V, 3) with reverse legend PAX AVG VOT Vand would have issued after completing his fourth regnal year and the second (RIC V, 4) with PAX AVG MVLT X would have come after the completion of that year and looking forward to a tenth year. From their style these two aurei were from the mint which signed with RSR.
A number of coins bear the letters S P or S C in the field, with the exergue blank. They are found with both types of obverse legend, therefore span the changeover. At various times those with S P have been assigned to London, S C to the "C" mint, on the grounds of style. Carson eventually opted for them all being from the C mint but I have always found this difficult to support; for the moment they are listed in accordance with Carson's arrangement.  It may, however, be something much simpler, that all the S C are from the "C" mint but the S P coins are from both. A detailed die-link study of this group might prove the point either way.
Silver  and Gold
The mint thought to be at Rouen was the first to issue gold coins for Carausius. The same somewhat crude portrait style and idiosyncratic legends found on the  bronze coinage are mirrored in the aurei, for example, the continuation of the legend into the exergue on the reverse of the example illustrated.
<![if !vml]>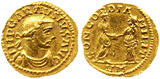 <![endif]>
Aureus of Carausius, Rouen mint.
Among the early issues were a series of silver "denarii" , some bearing the mintmark RSR. These silver coins, the first issued in the Roman Empire for over two hundred years, included a unique reverse type showing Britannia clasping hands with Carausius and bearing the legend EXPECTATE VENI - "Come thou long-awaited" - based on the line from the Aeneid, "Quibus Hector ab oris exspectate venis". Since most of the gold coins from this reign are somewhat later and extremely rare (Note 1), it is thought that silver was used in this initial coinage because no other bullion was immediately available. It may have been obtained by extracting the small amounts of silver from the billon coins of earlier reigns, although other sources are possible since Britain is known to have supplied silver refined from lead ores mined locally, for example a large lead ingot discovered in the Roman fort at Richborough is marked EX ARG ("without silver" i.e. silver extracted).
The weights of the silver coins seem to vary considerably. Ignoring one specimen said to weigh 5.96 gm, they range between 3 gm and 5.2 gm. Included are some coins that may be contemporary forgeries, which does tend to cloud the picture. Examination of the frequency table suggests that there were two distinct standards, the first averaging circa 4.45 gm, followed by one circa 3.4 gm. With only one exception all the observed coins weighing more than 4 gm are marked RSR; of those below 4 gm half are marked RSR, with an almost equal number without mintmark. The lower standard, equivalent to 1/96 libra, was similar to that adopted by Nero in the 1st Century AD.
<![if !vml]>

<![endif]>
Above:  Silver "denarius" of Carausius with RSR mintmark
Reverse: FELICITAS, showing - a war galley with mast and rowers
If, as appears to be the case, the RSR mintmark belongs to London, then there is a definite sequence for the precious metal coins, of what appear to be heavy silver "denarii" marked RSR, lighter "denarii" marked RSR and then unmarked, then a gap of maybe two years before an issue of unmarked aurei and finally the ML series.
Silver coins of Carausius
<![if !vml]>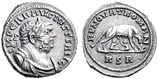 <![endif]><![if !vml]>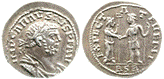 <![endif]>
<![if !vml]>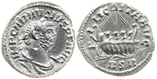 <![endif]><![if !vml]>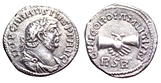 <![endif]>
More than any other of the denominations under Carausius, the silver coins proclaimed the hopes and aspirations of the regime, heralding a new golden age. Those with the reverse RENOVAT ROMANO, showing a wolf with the twins Romulus and Remus, were among the most prolific.  The EXPECTATE VENI reverse emphasised the message, but so did others that were less obvious in their message, such as VBERITAS AVG.  The galley reverse FELICITAS and those with CONCORDIA MILITVM gave an assurance of the protection afforded by the Classis Britannia and the army.
All the signed London gold aurei of both emperors, save for one of Allectus with mintmark MSL, have the common mark ML, irrespective of issue. They conform to the late 3rd Century light aurei standard of circa 4.6 gm (1/70 of a Roman pound) set by Carus and his sons (AD 282-285). Most of these gold coins of Carausius, except those from Rotomagus, seem to be from fairly late in the reign, circa AD 290-292.
Gold coins of Carausius and Maximian minted in London
<![if !vml]>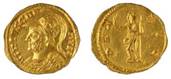 <![endif]>      <![if !vml]>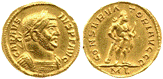 <![endif]>      <![if !vml]>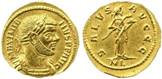 <![endif]>
Gold coins of Allectus minted in London
<![if !supportLineBreakNewLine]>
<![endif]>
<![if !vml]>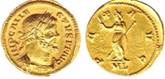 <![endif]>    <![if !vml]>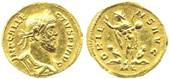 <![endif]>    <![if !vml]>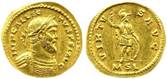 <![endif]>
SEQUENCE OF MINTMARKS

Silver and Gold

Obverse: IMP CARAVSIVS P F AVG (with variations)

Mintmark

AD 286 - 287

Silver "denarius" (heavy standard)

RSR

" " "

Silver "denarius" (light standard)

RSR

none

Obverse: VIRTVS CARAVSI

AD 289

Gold aureus

none

Obverse: IMP CARAVSIVS P F AVG

AD 290

Gold aureus

none

Obverse: IMP C CARAVSIVS P F AVG

AD 291

Gold aureus

none

Obverse: CARAVSIVS P F AVG or MAXIMIANVS P F AVG

AD 292

Gold aureus

ML

Obverse: IMP C ALLECTVS PF AVG

AD 293 - 294

Gold aureus

ML

AD 294 - 295

Gold aureus

MSL
By common consent, the earliest coins of Carausius were an unmarked series of billon aureliani, with little or no silver, possibly made from melting down coins of the late Gallic emperors. They were of crude style and poorly made.   However, the standard of his coins improved rapidly and soon matched those of the main empire.
Aureliani of Carausius
<![if !vml]>

<![endif]><![if !vml]>

<![endif]> <![if !vml]>

<![endif]><![if !vml]>

<![endif]>
Rev: LAETITIA AVG Rev:VIRTVS  AVG
no mintmark no mintmark
<![if !vml]>

<![endif]><![if !vml]>

<![endif]> <![if !vml]>

<![endif]><![if !vml]>

<![endif]>
Rev: PAX AVG Rev: PAX AVG
London mint ""C" mint
<![if !vml]>

<![endif]><![if !vml]>

<![endif]> <![if !vml]>

<![endif]><![if !vml]>

<![endif]>
Rev: PAX AVG - mintmark S P Rev: PAX AVG - mintmark S C
Note similarity of style to London mint coin above Note similarity of style to unmarked coins above
SEQUENCE OF MINTMARKS
Aureliani

Obverse:

IMP C M CARAVSIVS AVG
IMP CARAVSIVS P F AVG
IMP CARAVSIVS P AVG
VIRTVS CARAVSI

AD 286 – 287

Unmarked

Obverse: IMP CARAVSIVS P F AVG

Date

London

"C" mint

AD 287-290

ML

C

C |

| C

L |
ML

MC

SMC

F | O
ML

MCXXI

CXXI

B | E
MLXXI

S | C
C

S | C

S | P

Obverse: IMP C CARAVSIVS P F AVG

AD 291

B | E
MLXXI

S | C

S | P

AD 292

S | P
MLXXI

S | C
C

Obverse:
IMP C CARAVSIVS P F AVG

IMP DIOCLETIANVS P F AVG

IMP C MAXIMIANVS P F AVG

CARAVSIVS ET FRATRES SVI ("C" mint)

AD 292-293

S | P
MLXXI

S | P
C

SPC
(Diocletian)

Obverse: IMP C CARAVSIVS P F AVG

AD 293

S | P
ML

S | P
C

Obverse: IMP C ALLECTVS P F AVG

AD 293-295

S | P
ML

S | P
C

S | A
ML

S | A
MSL

S | P
CL

<![if !supportMisalignedColumns]>
<![endif]>

NOTES:
There are minor variations in obverse legends not shown above
e.g. IMP CARAVSIVS P AVG. and sometimes A, AV or AG instead of AVG.
The dates shown are only intended to be approximate.
Although Carson allocated a year to each mint mark, analysis of hoards show that some of the marks were are much rarer than others, and were probably struck over a much shorter period. In particular the SMC mark on Carausian aureliani was of brief duration and probably contemporary with the previous mark MC. Nor did each mint change its marks in synchronisation with the other.
One mark attributed to London, that with just XI in the exergue, is almost certainly barbarous, mistakenly copied from ML.  However, the letters XXI added to the mintmarks circa AD 290-292 served the same purpose as those found on billon aureliani from Aurelian's reform in AD 274 onwards, intended as a value mark indicating the silver content.
All the London mint gold aurei of both emperors, save for one of Allectus with mintmark MSL, have the common mark ML, irrespective of issue. They conform to the late 3rd Century light aurei standard of circa 4.5 gm (1/70th of a Roman pound) set by Carus and his sons (AD 282-285). Most of these gold coins of Carausius, except those from Rotomagus, seem to be from fairly late in the reign, circa AD 290-292.
<![if !vml]>

<![endif]>
Carausius aurelianus - London mint
Reverse: SOLI INVICT - Sol in a quadriga
A feature of the early coins of Carausius was the adoption of reverse designs that were based on coins from previous emperors. Among these were SOLI INVICTO (quadriga) and ADVENTVS AVG (Emperor on horseback) based on coins of Probus, GERMANICVS MAX V and VICTORIA GERM from Gallienus, MONETA AVG from Postumus and HILARITAS AVG from Tetricus I. This, coupled with the sub-standard style and execution of the coins, is what would be expected for a rebel without mint facilities immediately to hand who had to set everything up from scratch.
Legionary Series
One interesting series in the early coins, are those aureliani that listed nine different legions, showing their regimental emblems. As with a previous legionary series issued by Gallienus circa AD 258-259 which may have provided the inspiration, these coins were extensively copied. "Roman Imperial Coinage Vol. V Part ii" lists twenty-three different reverse legends and types, each with up to four obverse variants and several different mintmarks, most of which, where it was possible to examine them, turned out to be contemporary forgeries.
<![if !vml]>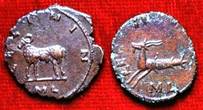 <![endif]>
Legionary coins of Carausius - London mint
Left: LEG I MIN Right LEG II AVG
Mintmark: ML

Name

Badge

Normal Station

LEGI I MIN(ervia)
LEG II AVG(usta)
LEG II PARTH(ica)
LEG IIII FL(avia)
LEG VII CLA(udia)
LEG VIII AVG(usta)
LEG IIXX PRIMIG(enia)
LEG XX VV (Valeria Victrix)
LEG XXX VLPIA VI(ictrix)

Also:
COHRT PRAET

Ram
Capricorn
Centaur
Lion
Bull
Bull
Capricorn
Boar
Neptune


Four ensigns

Lower Rhine
Britain
Italy
Upper Moesia
Upper Moesia
Upper Rhine
Upper Rhine
Britain
Lower Rhine


Praetorian Guard (the Emperor's bodyguard)

Mintmark: C

Name

Badge

Normal Station

LEG IIII FLAVIA
LEG VII CLA(udia)

Centaur (Note 3)
Bull

See above
See above
These legions appear to be the ones that provided vexillationes (detachments) allocated to Carausius for his defence of the Channel. If, as seems to be the case, they retained their allegiance to their commander in his revolt against Rome, it helps explain why he was such a difficult opponent to dislodge. At first sight there is an obvious omission, Legio VI Victrix, which was normally stationed at Eboracum (York). This omission, coupled with the fact that the legion was omitted by Gallienus in his Legionary coinage and also from a series of gold coins issued by the Gallic Emperor Victorinus (AD 268-270), has led to speculation that it had been transferred away from Britain, especially when there is no direct proof that it was in Britain after the reign of Severus Alexander (AD 222-235). Against this is the fact that the late 4th century/early 5th Century Notitia Dignitatum still lists Legio VI Victrix in York as part of the British garrison.  The omission was almost certainly because its primary duty was the protection of Hadrian's Wall and so was not to contribute to  any field force serving Gallienus, Victorinus or Carausius.
It was customary for legions to operate in pairs on active service. If there were two legions in a province they would combine together in the field for operations, or if there was only one, it would be combined with a legion from an adjacent province. In the legions listed by Carausius these paired formations can be detected, two from Britain, two from Upper Moesia, two from Lower Germany, and two from Upper Germany, together with Legio II Parthica from Italy as the headquarters battalion.  Together with auxiliaries and cavalry units, such a force might comprise 10,000 or more men.
<![if !vml]>

<![endif]>
Obverse legends and bust types
<![if !vml]>

<![endif]>
Carausius aurelianus with armoured bust
Legend: IMP CARAVSIVS A
Although the coinage of Carausius and, to a lesser extent, Allectus, do contain wide variations, after the initial coinage, the most common reverse type by far throughout the reigns of Carausius and Allectus was PAX AVG, in fact for Carausius any other reverse is fairly scarce. Most of the variations came in the obverse design, with the use of portrait busts showing Carausius with a spear and shield (though such coins are rare), and include some with helmeted busts, including one aureus copied from an aureus of Postumus.  Another obverse that probably derived from another Postumus aureus is that with a bare-headed facing portrait bust.
<![if !vml]>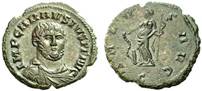 <![endif]>
An early facing bust coin that is probably modelled on an aureus of Postumus
Note the absence of the radiate crown that would signify an aurelianus
"C" mint
<![if !supportLineBreakNewLine]>
<![endif]>
As a fairly general rule, on the bulk of the coinage the obverses of Carausius are usually draped and cuirassed , while Allectus favours cuirassed busts. There was also various shortening of the obverse legend, for example using A or AV instead of AVG, omission of the letters P F, and the addition of the title I, IN or INV (Invictus) on coins after AD 289. Another variation, used on early aureliani modelled on those of Probus, was the legend VIRTVS CARAVSI (AVG), an obverse legend that was also used by his successor (VIRTVS ALLECTI AVG).
<![if !vml]>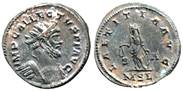 <![endif]> <![if !vml]>

<![endif]><![if !vml]>

<![endif]>
Aureliani of Allectus
(left) with cuirassed bust, London mint
(right) with draped and cuirassed bust and legend including I(nvictus), C mint
Both Carausius and Allectus used helmeted busts, always facing left.  Those for Carausius are found only on his early coins, all prior to his victory over Maximian in AD 289 and are completely absent from coins with later mint marks. Helmeted busts of Allectus are extremely rare and were only minted by London.  The one illustrated set a record price for an aurelianus of Allectus when sold in ?????.
<![if !vml]>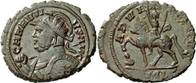 <![endif]> <![if !vml]>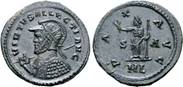 <![endif]>
Helmeted busts of Carausius an Allectus, holding spear and shield.
"Carausius and His Brothers"
<![if !vml]>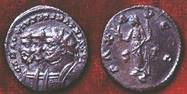 <![endif]>
CARAVSIVS ET FRATRES SVI
showing Carausius, Diocletian and Maximian together
"C" mint
Reverse: PAX AVG
During the period when Carausius , for whatever reason, acknowledged Diocletian and Maximian as fellow-emperors he issued a series of coins in their names, both individually and on the celebrated obverse CARAVSIVS ET FRATRES SVI (Carausius and his Brothers), which shows the jugate heads of all three. Strict observance of protocol meant that Diocletian was in the centre, flanked by Maximian on his left as the senior co-emperor and therefore Carausius on his right. Among the coins for Maximian were aurei from the London with mintmark ML, which helps in confirming the date of that particular group.. Iti is possible that originally there were also aurei struck in the name of Diocletian but none have survived. Reverse legends on both the gold and the silvered-bronze radiates from this period terminate in AVGGG to denote the three Augusti. 
<![if !vml]>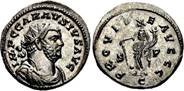 <![endif]>
Aurelianus of Carausius with reverse legend PROVIDE AVGGG
From the sequence of marks, Carson made the observation that these coins date from circa AD 292 and not, as previously supposed, after Maximan's defeat at the hands of the British Fleet in his ill-fated expedition. From this he deduced that far from being evidence of tacit acceptance of Carausius by Diocletian and Maximian, they were more likely to be a diplomatic overture by the British emperor in the face of the hostile build-up of forces in Gaul though Aurelius Victor, "De Caesaribus", says the "Carausius was allowed to retain his authority over the island after he had been judged quite competent to command and defend its inhabitants against warlike tribes". This is ambiguous in that it may be why Carausius was left alone for a while but does not explain the events that followed. Instead, I would like to turn Carson's argument on its head. In my opinion, it is possible that after the failed attempt at invading Britain overtures were made by Diocletian and Maximian that were intended to lull Carausius into thinking that he would be recognised as co-emperor, stringing him along with false promises until they were ready to act.  The adoption by Carausius of the additional title of Caesar implicit in the longer obverse legend on coins from AD 291 onwards may have been part of this deception.  If this is what happened, the stratagem worked.  Carausius believed so much he was prepared to include both emperors in his coinage until after the appointment of Constantius and realised that he had been duped.  When it finally dawned on Carausius that any hopes he may have had for an alliance were in vain, these coins ceased and were replaced by a new issue in his name alone. 
According to Aurelius Victor, Allectus killed Carausius in order to escape execution for unspecified misdeeds, presumably in his role in charge of finances.  Although this maybe be truth, it is easy to imagine that Carausius might have been murdered as retribution for placing his trust in Diocletian and betraying his supporters. Perhaps he also failed to listen to warnings that he was being set up until it was too late.
COINS OF CARAUSIUS ISSUED IN HIS OWN NAME,
DIOCLETIAN & MAXIMIAN
Circa AD 292

Mintmark

Reverse

Carausius

Diocletian

Maximian

Gold aurei

|
ML

CONSERVAT AVGGG
SALVS AVGGG

x


x

Aureliani

S | P
MLXXI

COMES AVGGG
CONSERVAT AVGGG
HILARITAS AVGGG
LAETITIA AVGGG
PAX AVGGG
PROVIDENTIA AVGGG
SALVS AVGGG
VIRTVS AVGGG

x

x

x
x
x
x


x

x
x
x
x
x



x

x
x
x
x

S | P
C

COMES AVGGG
CONCORDIA AVGGG
LAETITIA AVGGG
MONETA AVGGG
PAX AVGGG
PIETAS AVGGG
PROVIDE AVGGG
SALVS AVGGG
SPES PVBLICA
VICTORIA AVGGG
VIRTVS AVGGG

x
x
x
x
x
x
x
x


x



x

x

x

x
x
x




x
x
x

SPC

CONCORDIA AVGGG
FIDES MILITVM
SALVS AVGGG

x

x


x
<![if !vml]>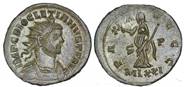 <![endif]> <![if !vml]>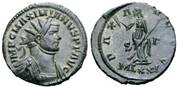 <![endif]>
London mint aureliani of Diocletian and Maximian

<![if !vml]>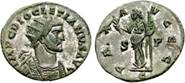 <![endif]> <![if !vml]>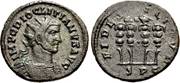 <![endif]>
"C" mint aureliani of Diocletian
Consulships
The Gallic emperors, Postumus, Victorinus and the Tetrici, assumed the normal offices and titles of an emperor, proclaiming on their coins that they were Pontifex Maximus, Tribunicias Potestas, Pater Patriae and Consul (usually abbreviated to P M, TR P, P P and COS). These were only applicable to the territory under their control, separate and in parallel with, those of the central empire.  Although Carausius and Allectus appear to have done the same, on the evidence of their coinage the adoption of these offices never seemed to have been of great importance.
There is reference to a consulship by Carausius found on his early silver coins on which he is shown wearing a consular robe and holding an eagle-tipped sceptre.  There are some extremely rare aureliani from the "C" mint that are more specific, including one in the British Museum that has a reverse PM TR P IIII, with the rest of the legend off-flan.  The style and fabric of the coin is early, so there must be some reservations about the TR P reading, which would date the coin to AD 290. Another, also from the "C" mint, quoted by RIC V has P M [……..] COS P P.  If the consulship was as highly regarded as elsewhere, it is odd that coins celebrating the event should be so rare.
<![if !vml]>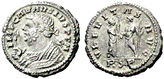 <![endif]>
Silver "denarius" of Carausius wearing a consular robe
Reverse: VBERITAS AVG.  Mintmark: RSR
A similar situation arises with Allectus.  That he held a consulship can be inferred only from London mint aureliani where his obverse bust is wearing a consular robe (RIV V, 33 and 35).  Rather oddly, these bear both of his first two London mintmarks, S/P//ML and S/A//ML.  The question remains: were Carausius and Allectus ever consuls?  Could it be that in the case of Carausius, the reverses were copied from coins of previous emperors?  With Allectus, was it just the rendition of the obverse bust that was copied from coins of previous emperors, or even contemporary Lugdunum mint aureliani of Diocletian? There was no shortage of prototypes on which  to base such a portrait..
The so-called"Quinarii"
The last series for Allectus were small coins retaining the radiate-crowned obverse bust of the aurelianus but only three-quarters of the previous weight. Because of the letter Q in the mintmark, this coin is often referred to as a "quinarius", though Besley in his report on the Rogiet hoard preferred to use the term "Q-radiates".  Although thought of as a reduced-weight aurelianus, their reported silver content of about 1.6% would support the view that they were half-aureliani and therefore had a value of about 1/500 of an aureus. Besley suggests that they were introduced at a standard that equated to the old antoninianus just prior to Aurelian's reform.
There is a difficulty with this in that based on published figures and depending on which set of figures are used, the intrinsic value of the Q-radiate, based on silver content alone, is between a quarter and a fifth of the aurelianus and not half. Assuming that the Allectus aureliani still adhered to the XXI standard, their silver content as a percentage was more than double that of the Q-radiates, which, coupled with the lower weight of the latter, equates to something like 4.5 to one and even using the lowest standard quoted for the aurelianus and the highest for the Q-radiate, the ratio would be about  3.75 to one.. It may be pure fantasy, but might that be the explanation of the enigmatic Q marking?  See Appendix 2 for details of the calculations involved.
The reverse type depicts a galley, but the two mints available to Allectus mostly used different legends, VIRTVS AVG at London and the "C" mint, the other being LAETITIA AVG, which was only used at the "C mint".  Besley thought that the LAETITIA reverse came before VIRTVS, with the likelihood that production by London started later.
Although the galley on the reverse was common to all of these Q-radiates, within themselves there was considerable variation.    The galley may face either right or left, the number of oars varied, London coins often include a representation of the waves beneath the ship, a feature that occurs at the "C" mint but is much rarer.  . Some have a shelter or cabin beneath the curving stern post, the ram on the prow is more prominent on some than others, the heads of the oarsmen can also be large or small and do not always match the number of oars.  On galleys facing left the steering board at the stern is shown. A scarce variant found on coins from both mints is where there is a bird standing on top of the mast. On a small number the galley does not have a mast. The most unusual and very rare types, however, are those that show a figure of Victory either standing on the prow or at the stern.  Even rarer on those where the galley does not have mast, one has Victory standing in the centre and one with a river god reclining on deck. 
<![if !vml]>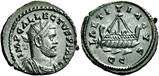 <![endif]> <![if !vml]>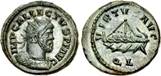 <![endif]>
Allectus "quinarius", "C" mint Allectus "quinarius", London mint
LAETITIA AVG (galley right) VIRTVS AVG (galley left
<![if !vml]>
<![endif]> <![if !vml]>

<![endif]>
Left: galley with multiple oars "C" mint
Right; galley with waves beneath, London mint
"Quinarii"

"C" mint only

Date

Reverse

Mintmark

Obverse:
IMP C ALLECTVS P F I AVG
IMP C ALLECTVS P F AVG
IMP C ALLECTVS P AVG

AD 294-296

LAETITIA AVG (galley left)

QC

Obverse:
IMP C ALLECTVS PI FE AVG
 IMP C ALLECTVS P F I AVG

IMP C ALLECTVS P F AVG
IMP C ALLECTVS P AVG

IMP C ALLECTVS AVG

IMP ALLECTVS P AVG

AD 294-296

LAETITIA AVG (galley right)

QC

<![if !supportMisalignedColumns]>
<![endif]>
Date

Reverse

London

"C" mint

Obverse:  IMP C ALLECTVS P F AVG

AD 294-296

VIRTVS AVG (galley eft)

QL

QC

AD 294-296

VIRTVS AVG (galley right)

"C" mint only

Obverse:
 IMP C ALLECTVS P FEL AVG

IMP C ALLECTVS P F I AVG
IMP C ALLECTVS P AVG

IMP C ALLECTVS AVG

AD 294-296

VIRTVS AVG (galley left)

QC
Appendix 1
Barbarous copies of coins of Carausius and Allectus
Contemporary forgeries of Roman coins (usually referred to as "barbarous") can nearly always be associated with the introduction of a new coinage, when the forgers took advantage of public unfamiliarity with the new types, or times of upheaval and unrest. The coins of Carausius fell into this both these categories and forgers were quick to exploit the opportunities afforded by his initial aureliani, which were of a poor style and execution, as well as the novelty of his silver coins. By contrast his later coinage, produced to a much higher standard, is hardly ever copied. This is also true of the coinage of Allectus and although barbarous coins are known they are consequently much rarer. Illustrated below are examples of barbarous copies for both emperors.
<![if !vml]>

<![endif]><![if !vml]>

<![endif]> <![if !vml]>

<![endif]><![if !vml]>

<![endif]>
Barbarous copy of Carausius Barbarous copy of Allectusus
Appendix 2
In a study I made the average weight of the Allectus aureliani was 2.70g (1/120 libra)
Notes:
1.  Or maybe because subsequent to the restoration to Roman rule measures were taken to remove all vestiges of the usurpation, hence, for example, the treatment of the Carlisle milestone.
2.  This coin, which I have been unable to verify, is open to suspicion as a contemporary forgery because it uses the wrong badge.
3.  Reinforcing the supposition that anything to do with the usurpation was suppressed, these aureliani in the names of Maximian and Diocletian turn up in later hoards which exclude all other coins of Carausius and Allectus.
References:
Illustrations:
Coins on a red background are in the British Museum
The Arras medallion is taken from an electrotype presented to me by M. Bourgey of Paris in 1972 as an appreciation of some cataloguing work I had undertaken on his behalf.
 It has been digitally enhanced and colourised to give a better idea what the actual coin looks like.