3. TAIWAN
(Republic of China)
1949 onwards
In 1949 the defeated Nationalist government of China fled to Taiwan (Formosa), a large island some 90 miles from the Chinese coast, taking with it most of the country's gold reserves together with the Nationalist air force and navy. There it established itself as the Republic of China, under the rule of General Chiang Kai-shek. Although the People's Republic of China still lays claim to the island Chinese involvement in the Korean War antagonised the Americans, who consequently gave Taiwan their support and protection. Despite occasional skirmishes between the Nationalists and Chinese Communists, Taiwan continues to be independent and has developed a flourishing economy, largely based on the computer industry.
The first coins of Taiwan consisted of two small denominations issued in 1949, a bronze 1 jiao (chiao) or ten cents and a silver 5 jiao (50 cents). Both carried the obverse portrait of Dr Sun Yat-sen and a map of Taiwan on the reverse. They are dated according to the years of the Chinese Republic (where Year 1 = 1912) and so bear the date Year 38. These were supplemented with an aluminium 2 jiao (20 cents) coin the following year (year 39), the only coin of this denomination to be issed. In 1954 (Year 43) a new, larger, brass 5 jiao coin replaced the silver one, which had tended to be hoarded, and in Year 44 the 1 jiao coin was reissued in aluminium. All these coins were of similar design to the originals.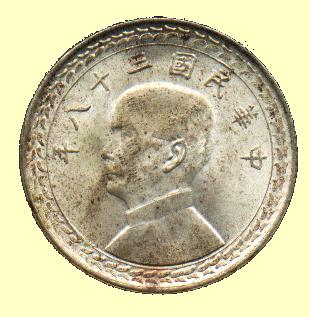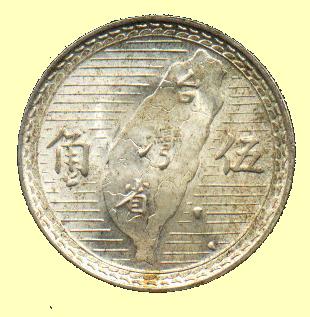 Silver 5 jiao (chiao) issued in 1949 (year 38), with portrait of Sun Yat-sen and map of Taiwan
In 1960 (Year 49) a cupro-nickel yuan (dollar) coin was introduced. Over 321 miilion of these coins were produced, so that no more were needed until 1970 (Year 59), after which it continued to be minted until 1980, to be replaced by a smaller bronze coin bearing the portrait of Chiang Kai-shek. These bronze coins were minted until 1988. New aluminium 1 jiao and brass 5 jiao coins were minted intermittently from 1967 onwards. The former ceased production in 1974, the latter in 1988, having changed to a smaller design in 1981.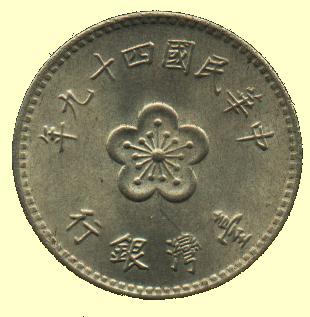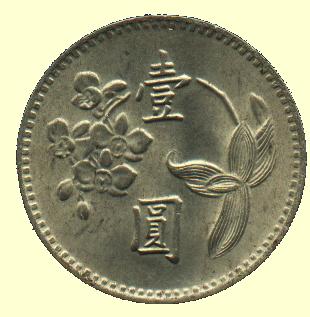 One yuan coin first issued in 1960 (Year 49) and minted until 1980
1970 (Year 59) saw the introduction of a new denomination, also bearing the portrait of Chiang Kai-shek, of five yuan. A ten yuan coin followed in 1981, at the same time as the five yuan coin was reduced in size. Both were minted continuously until 1988 and 1989 respectively. The most recently introduced denomination was a brass 50 yuan of 1992 (Year 81).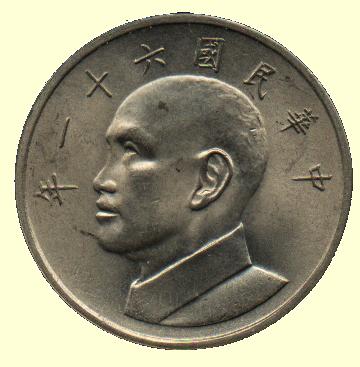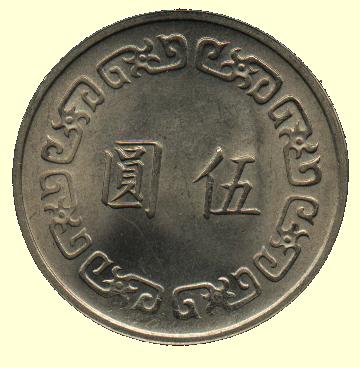 Five yuan with portait of Chiang Kai-shek issued between 1970 and 1981
The 50th Anniversary of the Republic of China in 1961 was marked by the mintage of a silver dollar, which remained in circulation for a very brief time before being withdrawn and is consequently very scarce. Other commemorative coins include a set of four issued in 1965 (Year 54) to celebrate the 100th Anniversary of the birth of Sun Yat-sen (he was actually born in 1866, but Chinese traditionally ascribe an age of 9 months at the actual time of birth, hence the descrepancy). This set included a cupro-nickel 5 yuan and 10 yuan, together with silver 50 yuan and 100 yuan. The last is the only coin of that denomination to be issued to date.
The 80th birthday of Chiang Kai-shek was marked by a cupro-nickel one yuan issued in 1966. Gold coins of 1000 and 2000 yuan were struck in addition to the Sun Yat-sen commemoratives of 1965 and a 2000 dollar gold coin for Chiang Kai-shek's 80th birthday in 1966, none of which were intended for circulation.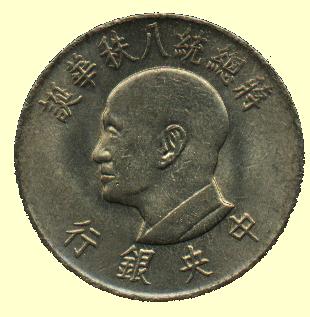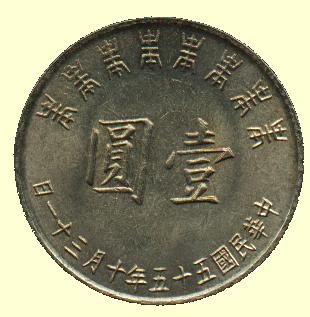 One yuan to commemorate the 80th birthday of Chiang Kai-shek
dated 55 year (1966), 10th month 31st day