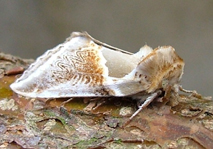 The moths illustrated on this site (with just a few exceptions) have been
found and photographed at Kingston , Kent (map ref. O.S. TR195511)
All the images to date have been photographed from 2005 to 2008.
This is an ongoing project and new images will be added as they become available.
Please note that all images are copyright and may not be used in any way for any purpose without my express permission.
Copyright © Ken Elks 2005-2008
Alphabetical list of moths illustrated on this site
Visitors since 30 August 2005


Free Web Site Counter